Home Organizing Tips for the Start of a New Season
By Carrie Kauffman, Professional Organizer
Owner Carrie's Essential Services
www.carriesessentialservices.com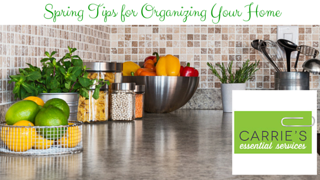 There's just something about the arrival of Spring that motivates me! Windows open, fresh air flowing through the house, kids outside…My mind racing…what to tackle first…closets, clothes, garage, kitchen, bathrooms…the start of a new season is a perfect excuse to get organized.
Step 1 is to develop a plan. It can be overwhelming & ultimately paralyzing if you think about all of the projects that need to be done. Prioritize & take it one step, one room, one closet or corner at a time. The best way to make a real impact is to keep your organizing projects…well…organized. Develop a plan for each space and work it methodically. When you complete a project, move onto the next. Here's my plan for tackling high priority jobs around your home home this Spring:
CLOSETS
Your hall closet is ready to breathe again! It's been overstuffed & bursting at the seams all winter! Out with the bulky winter coats & snow clothes, in with trenches, rain gear & light spring jackets. Move everything that is now out of season to another closet or, if you are strapped for space, make sure you put them on the far side of your hall closet.
WASH/DRYCLEAN your winter wear before packing away for the season.
TEST items to make sure they are in good working order before packing them away or calling them up for the Spring season!

Buttons & zippers
Umbrellas

INVENTORY & TRY ON winter accessories

Will your Hats/Gloves/Mittens make it to next season. No match? TOSS!
Did your child go through a growth spurt? If so, it may be time for new rain boots & jackets

DONATE anything that is too small or unable to be used
RESEAL winter boots if they are waterproof
Carrie's Essential Winter Wear Tip: Accessories passed their prime? Won't make it another season? BUY NOW, for next year, to take advantage of winter closeout sales.
CLOTHING
The first thing I do at the start of a new season is go through my family's clothing & determine what goes where.
DECLUTTER closets & drawers; inventory all winter clothing, shoes & accessories
REPAIR shoes & handbags in need of a little TLC
DONATE anything that does not fit or you can no longer use to make room for new Spring essentials
STORE fall color clothing & accessories & bring out the spring/summer bags
Carrie's Essential Closet Decluttering Tip: Ask yourself these questions to decide whether an items should stay or go: Does this fit? Have I worn it in the last 12 months? Is it in style? Does it bring me joy?
SPRING KIDS CONSIGNMENT SALES
Local consignment sales are a great way to make some quick money on gently used clothing that you are ready to pass along. Consignors often receive perks such as access to pre-sale events & reduced pricing. Great, low-cost way to fresh up your child's closet for Spring!
DECLUTTER your child's drawers & closets before you go shopping!
MAKE A LIST with details of what you need for each child; be specific with regards to toys or equipment you're looking to purchase.
Carrie's Essential Consignment Sale Tip…If you are in the market for shoes, trace your child's current size on a piece of paper & cut it out. The take the list you just made & write it on the shoe cutout so you can minimize your paper & keep your list handy & organized.
KITCHEN
The key to great kitchen organization is accessibility & flow. The kitchen can be a stressful place. Make sure all of your appliances, utensils & kitchen accessories have a purpose & a designated home.
DECLUTTER & DONATE. If you entertain frequently, you may have accumulated many items over the winter. This includes serving pieces and alcohol. Donate anything you do not need/want or make a plan to use…Spring BBQ, anyone?
MAKE ROOM FOR SUMMER! Take out the items you only use in the summer & make them more easily accessible…ahem, margarita mixer, glasses & pitchers, I'm looking at you…
Carrie's Essential Kitchen Tip: Make sure you store items close to where you will use them, keeping the items you use the most, within arm's reach.
GARAGE
Spring weather means a return to outdoor living! Time to declutter that garage to have access to sports equipment, gardening supplies, outdoor furniture, etc…
DEEP CLEAN; take out all recycling, broken items & give it a good sweep!
STORE any seasonal decorations.
PREP OUTDOOR SPACES; Bring out those colorful pots for Spring potting & planting.
Carrie's Essential Garage Tip: Use your wall space for large items; use hooks to hang bikes/beach chairs, etc & shelving for coolers. Use peg boards to organize your tool bench so that you have quick access to what you need.
Remember, organizing your home is an ongoing process. Get the whole family involved, keep a list of projects & work through it. If you make it a priority throughout the year, it won't seem like heavy lifting at the start of each season!
Happy Spring & Happy Organizing!