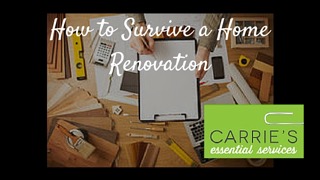 Congratulations!  You're ready to take the plunge…the home renovation plunge. Maybe you've just purchased your Fixer Upper or maybe you've been planning & saving for the past few years.  Either way, making major changes to your home requires planning on all fronts.  From who to hire to where things (and people) will go to how to stay on budget & time, organizing all of the moving parts is the first step to a successful home renovation.
I'm about to go through a major renovation at my home.  In the last five years, I've been through my fair share of home improvement projects ranging from outdoor hardscaping to the full demo and remodel of our kitchen. It's so important to plan for each phase of the project so that you can anticipate and be able to make quick decisions.
Here's what I've learned about how keep it all together, organized, on time and on budget…with bonus tips from my amazing interior designer, Amy Cuker of Down2Earth Design.
DESIGN PHASE
HIRE A DESIGN EXPERT
An interior design expert can bring a wealth of knowledge & expertise to your project.  They are trained to think about flow and texture and aesthetic…details that you may overlook when entrenched in a large scale project.  An interior design expert will help you achieve the look you want in each space…we found that we had a vision but were not exactly sure how to get there.  Our interior designer, Amy Cuker of Down2Earth Design, was able to make our plans a reality…every step of the way.
Want a sneak peek into my home renovation project?  You can read about it from Amy's point of view by visiting her blog.
Carrie's Essential Tip:  Meet with a couple of reputable interior design professionals.  Invite them to your home, communicate your design goals, including budget & timetable.
Amy's Down2Earth Interior Design Tip:
The best design results require clear communication & deep trust between the designer and the client.  Look for professionalism & strong chemistry when you meet a designer.  If you walk away from your interaction saying, "Wow, she really gets me, and she really knows her stuff" that's a good sign.
CREATE AN IDEA BOOK
Websites & apps such as Houzz & Pinterest are invaluable resources for homeowners. They allow you to research & keep track of design aspects you're interested in incorporating into your home.
Carrie's Essential Tip: Create an idea book of every room. Online resources allow you to search and save photographs related to looks you like. Both Houzz & Pinterest also allow you to leave comments & detailed descriptions so you can remember what you loved about a certain image.  Share your idea books/boards with your design professional so they can use your ideas for complete room concept boards.
Amy's Down2Earth Interior Design Tip:  The best idea books illustrate the feeling, an overall vibe that you are trying to achieve.  It enables your designer to see, feel it…so that they can create it, in your own home.  This is far more helpful to the designer than seeing a particular stove or chair you've found.  Your designer will want to see that too…eventually!  But when beginning a design process, it's really important for your designer to get a sense of the overall feel.   And, while you should feel free to dream, choose images that have a realistic connection to the architecture of your home.
VISIT THE SHOWROOM
After you receive & review product recommendations from your design professional, visit the showroom.  It is critical that you explore every piece – furniture, fixture, flooring, etc…with all of your senses!  Sit in the chairs to get a feel for comfort, movement…Visit the cabinet maker to see and feel the finished product. We went to the flooring store and looked at the different options the designer chose for us.  Seeing your design choices on paper & in person can be an eye opening experience…one that you can't relive once you green-light the selections.
Carrie's Essential Tip:   When shopping for design pieces from flooring to light fixtures to larger furniture, give yourself a few options.  You may see something in the catalog but come to find that it's not available or it requires additional pieces/purchases which drive up the cost…
Amy's Down2Earth Interior Design Tip:  Whenever possible, seeing items in person is highly beneficial.   Although your designer will save you time by narrowing down the options, it's no substitute to visiting the showrooms yourself, to get a sense of quality and comfort.  Comfort is key, and I always advise that when purchasing lounge chairs or sofas, they conduct an in-person "sit test."  It will cost you an hour or two upfront, but will save you years of discomfort and back pain.  There are a lot of great online furniture sources, and we work with those too, but it's less risky for things like tables, lamps, and accessories, where comfort is not an essential element.
RENOVATION STAGE
PLAN TO DO WITHOUT
Say your demo-ing your kitchen… prepare yourselves to be without one for sometime.  That means planning ahead for all food related prep, storage & cleaning.  Take advantage of the opportunity to declutter your kitchen, cabinets & drawers. Pack everything that is not essential during your kitchen displacement.  Label everything clearly & store safely. Use the same principles for the room specific to your renovation.
Carrie's Essential Tip:  Be strategic with your timing.  We planned our kitchen renovation for the Spring so we could still have access to the grill outside. Plan to rely heavily on your crockpot and ready to eat meals.
Amy's Down2Earth Interior Design Tip:  Renovations almost always take longer than projected.  Best to add a couple weeks in your head so you're mentally prepared.
SIZE IT UP
When communicating your vision to your contractor, be sure that you know exactly how you'll be using each space…every nook & cranny.  What will go there and, most importantly, what are the required dimensions.  Imagine. You hire a contractor to build mudroom lockers to store your kids' belongings…great idea, right?  But you forget that the spaces need to be wide enough to accommodate not only jackets, but also backpacks, sports equipment, boots, cleats, etc…and when complete, they are not wide enough, tall enough to fit your needs.  Same scenario in your kitchen.  Measure the height, width, length of your appliances…is there enough clearance between the counter & the cabinets? If storing in a cabinet, is there enough space to close the door completely.
Carrie's Essential Tip:  Do a dry run. Let's use the mudroom example.  Bring out the backpacks, the winter coats, the tall rain/snow boots so contractors can see everything that needs to fit in the new space. Think about the form & function of a space and be sure to communicate required space & usage very clearly to your contractor.
Amy's Down2Earth Interior Design Tip:  When designing built-ins for these types of spaces, the details matter. I have literally measured the height of the boots that will go into the cubbies.  Provide your designer with an inventory of these items with dimensions, you will save time & you're assured to get your storage just right.  Another tip:  If you're doing a new kitchen layout, compare the new storage capacity to your existing storage capacity to make sure you're breaking even or gaining storage, if that's your objective.  Confused about doing those calculations?  Your designer can help with that too.
KEEP ONE EYE ON THE BUDGET AT ALL TIMES
Firm budget guidelines are non-negotiable when embarking on a home renovation.  Set clear expectations with every contractor working on the project.  Be upfront about specific budgets for each piece of a project. This saves time & aggravation for all involved.  You don't want contractors wasting time on designs/layouts that are way out of your budget.  However, leave a little wiggle room for unexpected, unavoidable costs.  Things pop up…such as moving the gas line an additional 10 feet or rush fees associated with a last minute change.  Be prepared.
Carrie's Essential Tip:  Read the fine print before signing any contracts.  Or better yet, have a legal professional review it before you sign.  Be sure to make note of any hidden fees or upcharges in your written agreement with your contractor.  Keep a binder with all applicable paperwork related to the renovation (ok, maybe multiple binders)!
Amy's Down2Earth Interior Design Tip:  When I was first coming up in the design profession, I was taught to always factor in a 10% contingency.  Unanticipated things happen.  Always.  Even on the most well planned projects.  In the best case scenario, you'll come in close to the initial budget, but if you're a little over because of unforeseen circumstances, you'll avoid stress by being prepared with a contingency.
Remember, renovations take time. But when you put time into the planning, you'll save time during the process.  Best to have a very clear vision of what you are trying to achieve and stay focused on getting to that goal.
Happy Spring & Happy Organizing (& Renovating)!