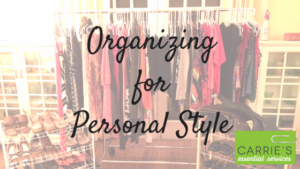 So for most of my adult life, I've played it safe when it comes to my clothes and accessories.
I love a good pair of jeans.  They're cozy, worn in, fit my body, my style.  I can dress them up, dress them down…the jean is amazingly versatile, right?!?!
My mom was the girly girl type. Talk about put together…Everything had to match. Her nail polish to her shoes to the slip beneath her dress. She was fabulous. Every time she stepped out of the house, she had it locked down. Now of course I didn't get those genes, I got jeans! Comfortable. Easy. Works.
So fast forward. Now I'm a mom, wife & business owner and I've just passed the 4-0 threshold. Can I continue to stay in my comfort zone, throw on my trusty jeans, a cute top & some heels…well, of course I can…BUT, 40 is a great excuse to reinvent yourself…and your personal style!
So where to begin…Accessorize!?! How?  Add a belt or scarf or hat?!?!  No way! Frankly I have no idea how to wear any of it!  It was clear that a closet makeover (and a change of mindset) was in order.
Carrie's Essential Personal Style Tip:  Know when it's time to ask for help.  Hire an expert to keep the process more efficient.  This goes for your home, office, or yourself!
Enter Ashley Meyers.  Ashley is a Newtown Square mom of 3 who recently launched her own personal style consulting business, lula belle consulting.  Ashley was a Stitch Fix stylist for several years but longed for a more personal experience.  She wanted to meet her clients, listen to them talk about their personal style, where they are, where they want be, style icons, etc…Ashley is a friend of a friend so I thought, why not!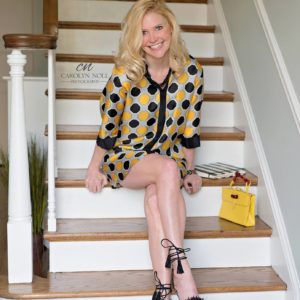 So when Ashley & I met for coffee a few months back, it was a match made in heaven.
I was able to open up to her about my style (or lack there of), what I love to wear and what I don't like and my own body insecurities. I told her that personal style has not been a real priority for me. I like what I like and it works for me.  It would be a hard sell to convince me of the benefits of hiring a personal stylist.  She was confident that the process would be eye-opening & the end product would wow me!  And so I agreed to give it a shot!
Carrie's Essential Personal Style Tip:  Don't be afraid to take the leap of faith.  Try something new.  Do something just for you.
A week later I invited Ashley into my home and showed her my whole wardrobe including clothes, handbags, jewelry, and shoes.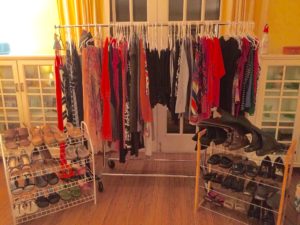 Now I work in homes everyday. As a Professional Organizer, I work in people's closets all the time.
Declutter & Organize.
Occasionally, a client will say, "Now that you've cleaned out and organized my closet…how do I wear what's left?"  Hmmmm…good question.  And until now, I didn't have a go to solution for this dilemma.
Decluttering is about Out with the Old…In with the New is not my department!
It's Ashley's department!
She took inventory of everything. Took pictures so that she could style the existing pieces into outfits for me.  She told me what I should let go of…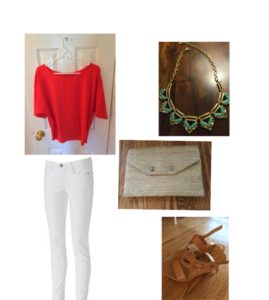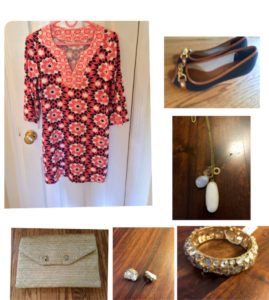 …Sidebar. This was an interesting experience, considering I am usually the one telling others what to get rid of!…
…and what I needed to purchase. So we made a date to go shopping.
This is what a typical day of shopping looks like for me.
I like shopping at White House Black Market. I go, the sales associate helps me, everything is black & white…how can I go wrong!?!  Playing it safe.  I tend to stick with what (I think) works for me.
Carrie's Essential Personal Style Tip (tongue firmly planted in cheek):  Don't go off script. Buy the same shirt in different colors because you know you like it and it's easy. Do the same thing with shoes!
That's what I need.  That's what I like. I don't want to have to think about what I should wear.  I like to wear the same things.  Need a suit, skirt, top, anything new, I need someone to tell me what to do…so Ashley & I went shopping!
First stop was TJ Maxx.  Yes! I love TJ Maxx.  Great finds & amazing prices!
Ashley already knew the clothes she had in mind for me and the colors that I needed to add in order to boost my current wardrobe. We browsed the racks for 30-45 minutes and loaded up the cart.
There were fun items that I knew I'd like.  Then some others that were definitely out of my comfort zone. Next, we high-tailed it into the dressing room. We both went in with 7 items so Ashley could see the look and fit of each piece.
The first 5 were No's, then finally a Yes! I thought, "ok there's hope for me yet." The dressing room fashion show continued for about an hour…clothes on, clothes off and yes or no or me trying to see her vision for the New me. And we made the tough choices.  Finally, we made our way to the checkout with my 5 Yes's –  two cute dresses, pair of capris and two tops.  Bonus:  I had a $100.00 gift card from credit card rewards and I only had to pay $1.96! $1.96!  Score in my book.
Shopping trip is just ramping up…
Next, we're off to Nordstrom Rack, same drill & I walk out with 2 tops and a pair of earrings.
Then, Lord & Taylor, saw a blazer I liked but couldn't pull the trigger…we left empty handed.
Macy's was next & the extra step paid off! I scored that Lord & Taylor blazer but $70.00 off their price.  Winner winner, chicken dinner!
So what were my takeaways from my personal shopping experience with Ashley Meyers, personal stylist?
I know now my body shape is an hour glass.
I know a lot more about how to shop for my body type.
I know I need to add more layers to my wardrobe.
I know I need to stop buying multiples of the same item, in different colors.
I know how to get a look for less…if you see an outfit from a high end store but don't want to spend the money keep a photo of it in your favorites and shop other stores to piece together a similar look.
I have a better sense of what's missing from my wardrobe and how to put things together.
I have a brand new boosted wardrobe with pieces that I can easily put together!
BONUS!  Doing this for myself felt good!
Knowing that, even though I'm 40 yrs old, I can still be stylish no matter what my budget, not matter what my size. Ashley makes things so easy and gives you that confidence that you can wear almost anything you want as long as you know how to style it!
And she was right.  She wowed me!