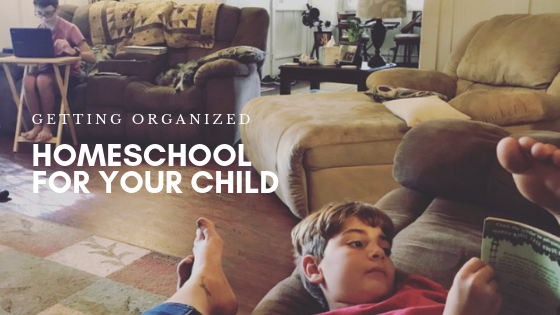 Everybody has back to school on the brain. Some are getting ready to ride the bus and head back into their classrooms. But others are rolling out of bed, grabbing breakfast and heading to school….right in their homes. Have you ever considered homeschooling your child? Are you embarking on your own home schooling adventure this year? Check out my Q&A with my sister in law, Becky Howe, who has been homeschooling her two boys for the past 5 years…
The world of education has changed so dramatically since our school days.  Now, parents and students have a variety of options aside from the traditional classroom setting.   For more and more parents, home schooling is a necessity as well as the best for their children.
My sister in law, Becky Howe, is one such parent. Becky is a former teacher and has been home schooling her children, Noah and Gavin, for four years.
Her husband was enlisted in the Army and finally retired last year after 22yrs years of service. His last deployment was in the great state of Hawaii. Around the middle of the school year, home schooling became a more viable option. Becky did her homework, researched the requirements and wanted to give it a try.
Homeschool worked for both the boys and Becky and the family never looked back!
---
When your home doubles as both living space & learning space, you need to kick it into ORGANIZING OVER DRIVE!
I sat down with Becky for a little Q&A session to find out how she stays organized as a homeschooling mom.
Carrie:  How did you determine which room(s) would be designated for school?
Becky:  I had planned on designating a specific room to teach in the house from the beginning.  I like organization and structure, and the teacher in me even bought used school desks to use for at home school work.  In Hawaii, my room/space was limited.  The shape of our on-post historical home included a small area joined with the kitchen that provided the space I thought I needed and could use.
I bought and used a white board for daily schedules and work.  I bought an art cart for organizing school supplies and hands on manipulative by subject.  Their desks were situated in this room, my chair and laptop were adjacent from theirs.  I had folders by subject matter and lessons ready to go.
However, I quickly learned, after the first week, that my children did not learn well in this space. The whole reason we chose to homeschool was to break away from traditional learning.  I still used this room however, kept all my curriculum books there, kept their notebooks and folders in their desks, and I loved my art cart!  It definitely helped me keep organized.
But my kids loved learning in all sorts of places, on the floor, on the sofa, outside, and sometimes in my bed!  As long as they weren't distracted, toys put away and out of the way, or even separated from each other, I allowed them to do their work where they best learned.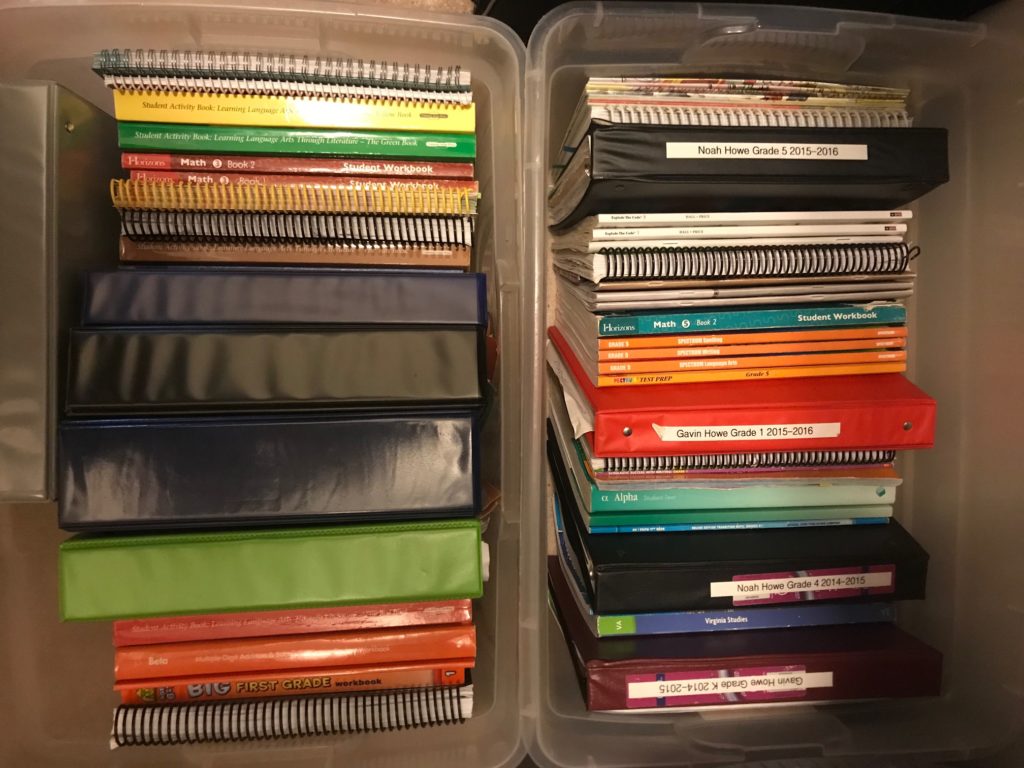 ---
Carrie:  How do you keep your home school room organized?
Becky:  Now we have moved to our more permanent home after retiring from the army.  We use the office to store our books, art cart, and supplies, but learning takes place all over the room depending on what the subject is or what our mood of the day is.  Our office holds our supplies, but it also acts as their play room/Xbox game room after school hours.
I do keep a Thirty-one organizing bag with me for books I use daily.  This sits by our sofa in the living room, but if I need to take it with me or to another room, it's an easy grab and go bag with our curriculum books.  Since homeschooling doesn't mean we are always home, I do take books in the car with me and I find it convenient to be able to grab this bag when I need to.
Like I mentioned earlier, I have a bookshelf full of books I use in our office.  However, each child also has their own bookshelf full of their own fun reading materials and age appropriate books.
I bought a tall cabinet in Hawaii to store puzzles, extra paper, science kits, a scale and other supplies so it is neatly put away and hidden from sight when we don't need it and have guests over.
Our family computer use to be in a central room so I could monitor them when they needed the computer.  Just this year, both boys have been upgraded to their own desks in their rooms.  One has a lap top, the other has our old family desktop computer.
I do label notebooks and folders by subject for each kid, and keep them in their desk.  I figure by ages 10 and up, they should share some responsibility in keeping track of their own supplies and staying organized.  Also this year, we added student planners for each kid, which I plan to teach them how to use.
---
Carrie:  Do you have a home school library? Is it organized by subject or just a space for home school books?
Becky:  Our books are in 3 separate bookshelves.  Each boy has one bookshelf for their own personal books.  I have a 3rd bookshelf I use for instructional purposes, resources, and read-a-loud I may introduce to them later.  I do organize my books by subject and material to make it easier to find them.  I have even organized the kids' books by series and genres as well, although they don't always put books back where I would like them and I will usually reorganize them 2 times a year.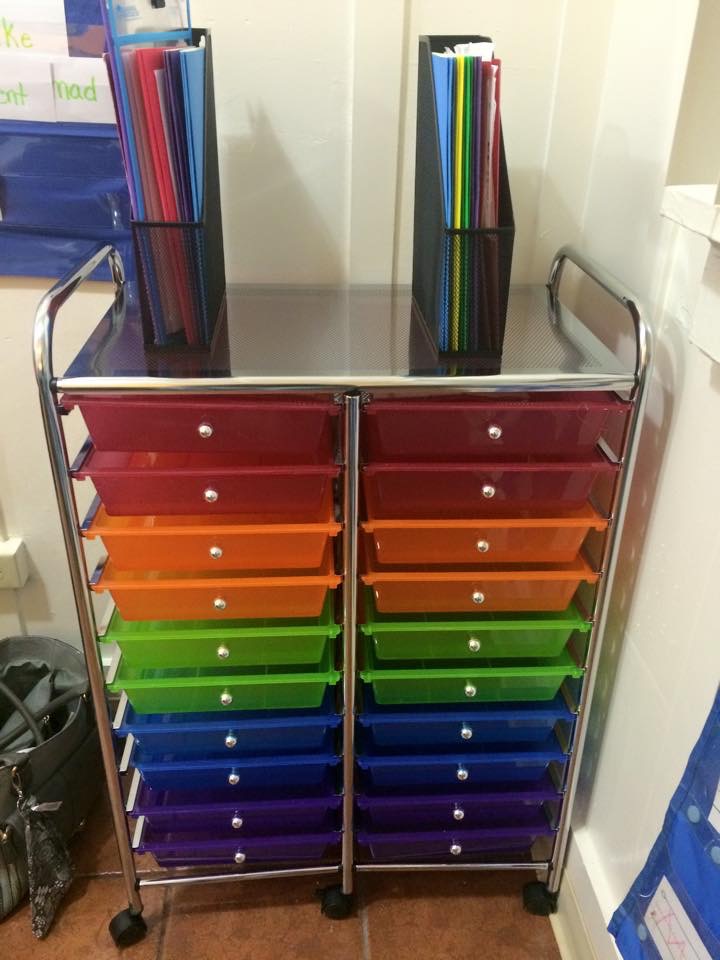 ---
Carrie:  Do you use a planner for school activities, special outings, other home school meetups? Do you use paper, electronic, a white board?
Becky:  I prefer paper.  I have 2 organizer/planners.  I have really enjoyed "The Well Planned Day" planners for homeschool families.  The larger planner is my lesson planner, attendance record keeping, and grade book.  It even provides a cardboard stock report card you can fill out for up to 4 children.  I also use her "On the Go" planner which I take with me for day to day tasks, after school activities, and shopping lists.  I can keep track of my exercises, dinner menus and budgeting in my on the go planner.  I only use my digital calendar to keep my husband in the loop of activities and appts we need to communicate with each other.  We use the Tiny Calendar app for our synced calendars.  On top of that I have a "command center" I call it next to the garage entry way by our drop off zone.  I keep a white board monthly calendar there with color coded markers, a chalk board weekly menu, and a large clip board that holds up to 3 sheets of papers I may need to refer to for print off calendars I receive from sports and scouting.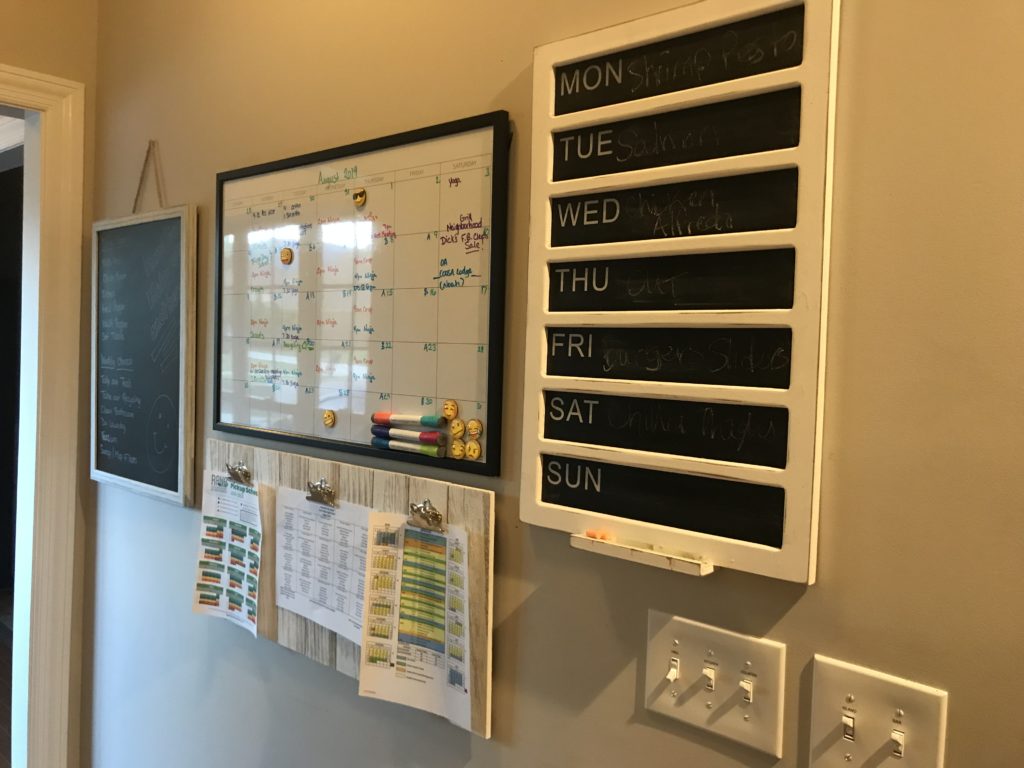 ---
Carrie:  How do you organize kids school work? Share with us what products that work best for you.
Becky:  I have used 3 ring binders, large notebooks with different subject dividers, and folders.  All work great for day to day tasks.  At the end of the school year I compile work into a 3 ring binder with subject for each kid.  I label the binder by school year and keep their records stored in totes for each kid should I need something one day, or should someone need to drop by and check on our homeschooling.  This hasn't ever happened and is not necessary for every state.  I like to make sure, just in case, if anyone ever did stop by, I can show them the work we do and what they have learned.  Or should they need to go back to school, and a school needs their report card or any work, I have it on hand.
I also keep a homeschooling folder on my laptop.  Folders include subject downloads I have found online by age and grade, as well as I keep records of their report cards digitally and any standardized testing scores we may take and I may need in the future.   Each of the boys have their own folders and are also dated by school year.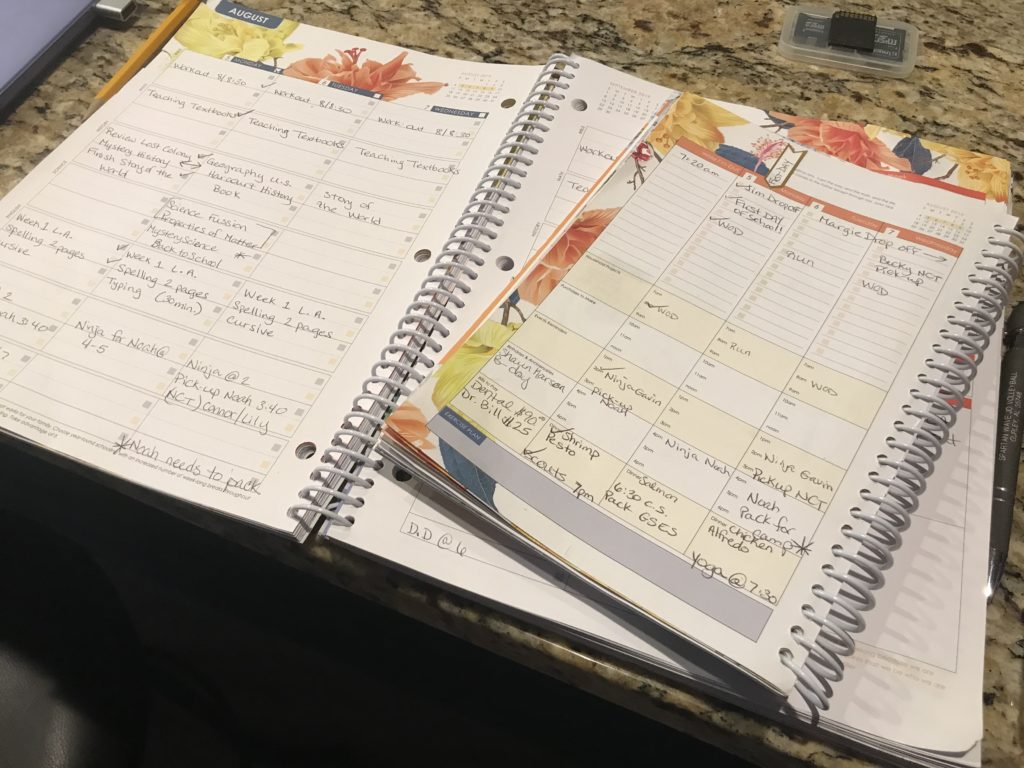 ---
Carrie:  What do you decide to keep and what to toss if anything?
Becky:  I keep a lot.  I keep past work books, notebooks, and papers in 3 ring binders in order in their totes.  Each kid has their own tote with their school work.  At this time, I haven't purged any of their work.   I keep it stored in our guest room closet and it's out of the way.
If I decide I no longer need something, I have thrown away notebooks that they have used to work out math problems, or notes taken.  I may throw out projects that are too big to keep away too.  If I need to, I have kept pictures of their projects and keep digital records by photo. But final papers, tests, quizzes, and workbooks are all kept.
---
Carrie:  Do you keep art projects or projects kids have done?
Becky:  I do keep plenty of art work.  I bought an art  binder a few years back that has an accordion folder with dividers for each grade level.  I can keep art stored neatly and organized without having to roll it or fold it.
Not really mentioned, but on a similar line, I enjoy making year books for each of my boys.   I compile all the school field trips, projects, Co-ops, and meet ups we do together throughout the year and make each of them a year book.  This is also a great way to show proof of what we teach and what they did all year long.
Just because we homeschool doesn't mean they shouldn't have their own year book.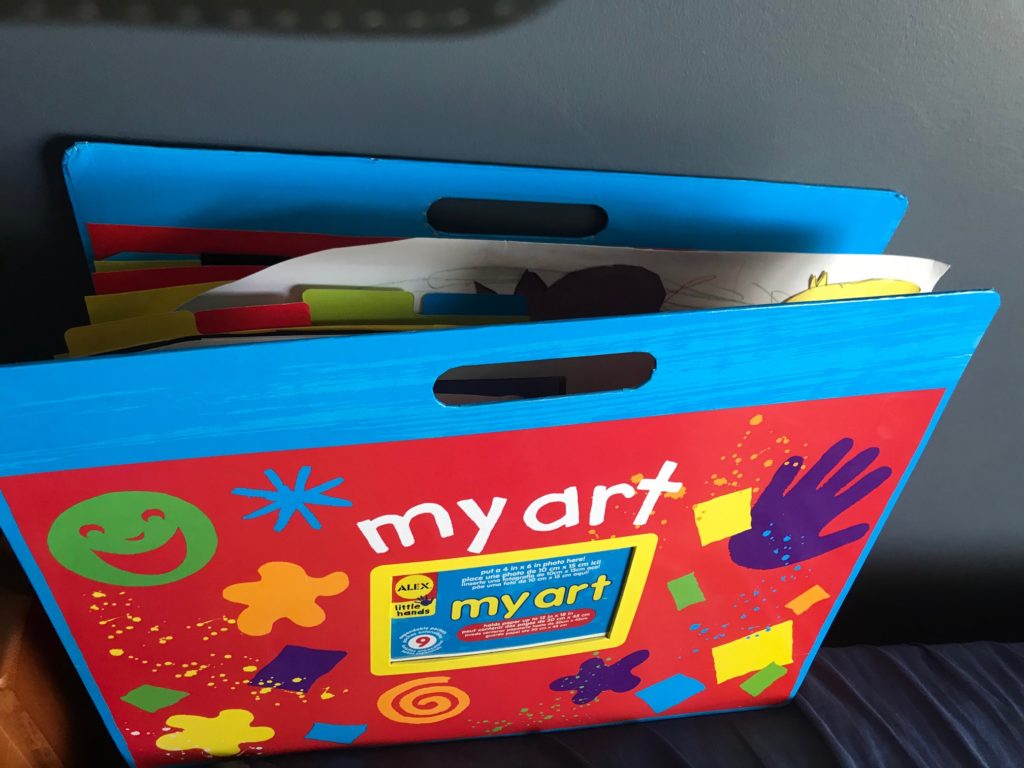 ---
Carrie:  What has been the best part of this homeschooling adventure?
Becky: The flexibility in our schedules to house visitors, the resources and people we've met in the homeschooling community, and all the hands on learning and field trips accessible to us!  There was a whole new world of learning out there, we soaked up every bit of it, and really enjoyed spending more time together.
I grew to learn with my boys, as I taught, and we grew to love our time together more and more.  It was special, appreciated, and I think a memory we will all cherish for a long time!
---
Carrie:  How are the boys doing now?  Have you continued to homeschool them?
Becky:  My oldest is now attending a magnet High School and is in 9th grade.  My youngest is in 5th grade, but continues to homeschool with me.
We are apart of a great Co-op, and have signed up for many extra curricular classes through the art museum, STEAM works, and other local facilities.  We are blessed to be apart of such a great community, and have learned so much.
Each year, we reassess our children's needs and wants, and what is best for them and their learning.  Not everyone learns the same way or needs the same thing, and that has been the beauty of homeschooling.
---
In a non-traditional classroom…and with only 2 students, homeschooling parents have the luxury of flexibility.  Being organized certainly means having a place for everything and having everything in its place.  But it also means being able to adapt to your students' learning styles and preferences on any given day.  Being a mom and a teacher to your kids requires you to wear several different hats…keeping that organized…and your students engaged and moving forward is the real organizing challenge!
About Carrie Kauffman
Carrie Kauffman is an award winning professional organizer, member of the National Association of Productivity and Organizing Professionals, Greater Philadelphia Chapter (NAPO-GPC) and owner of Carrie's Essential Services, LLC.Carrie Kauffman provides organizing services, in homes & offices, on the Main Line and surrounding communities. Carrie's Essential Servicesspecializes in moving & packing, preparing homes for sale, office setup including filing systems as well as general organizing & de-cluttering.
About Becky Howe
Becky Howe is a wife, mother and educator living with her family in northern Alabama.  Becky holds a bachelor's degree in Elementary Education, with an emphasis in Early Childhood Education.  While teaching CrossFit to a group of homeschooled children, as part of their PE requirement, she became intrigued and inspired by the families and started to ask questions about homeschooling.  With her husband still serving in the Army, the family moved to Hawaii and their homeschooling adventure began.  Her children are now in 9th& 5thgrades and she continues to homeschool.