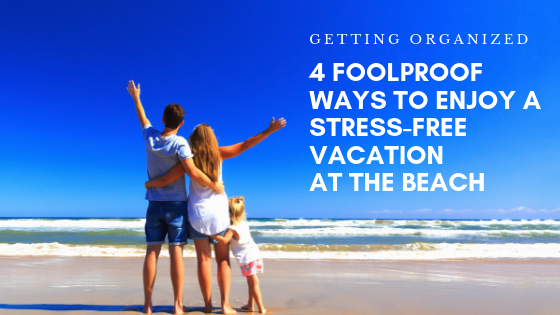 Alarm clocks are on temporary snooze…
Morning traffic is all but non-existent…
Kids are still in bed, sleeping the morning away…
You're enjoying the peace and quiet for a few minutes/hours longer…
Your ears perk up when the morning news mentions the shore forecast…
Yep, It's SUMMER!!!!
The speed of life definitely changes once the school year ends…but that doesn't mean we stop being organized.  In a lot of ways, you need to be MORE organized during the summer months.
Vacations, shore getaways, summer camp, weekend tourneys…
This is the most important time to be organized.
You're away from home…
You can't take everything with you…
What do you need?  Bedding, chairs, xBox (eek)
What do you need in case of emergency (or bad weather)…
What activities will you plan?
What is going on, at your destination, during your stay?
As always, advance planning will pay dividends….
---
4 Foolproof Ways To Minimize Stress & Actually Enjoy Your Beach Vacation
1. Don't Forget The Essentials
Make a physical list. I've put together a master checklist (outside of clothing and food).  These are, IMO, absolute must haves.  You'll still need to think about each member of your family traveling with you. Tailor items to each individual. Obviously, there's plenty that you can share (shampoo, soap, toothpaste, sunscreen, towels, etc…) but make note of individual items – special medications, diets, personal care items, etc). KNOW that you will, likely, be heading to a resort town.  Prices will be higher on these essentials so the more you can bring from home, the better on the wallet.
You've worked hard all year and the summer for many is where we can relax and unwind. Don't let being disorganized ruin your plans or even your pocket book.
Carrie's Essential Beach Packing List
For A Beach Day
Personal Items
Sunscreen – face, body, lip balm
First Aid kit – bandaids, Neosporin, A&D ointment
Bug spray
Baby powder
Sunglasses
Hat
Coverup
Book, Magazine
Earbuds, Headphones
General
Beach Bag
Beach Cart – Wonder Wheeler, Wheelbarrow, Wagon
Beach chairs
Beach towels
Beach blanket
Umbrella
Portable Speaker
Cooler
Recreational Items
Beach Toys – carry in large mesh laundry bag (easy to carry, clean, keep together)
Boogie Boards
Beach Games – KanJam, SlamBall, Paddleball, Wiffleball and the like
Goggles
Floaties, life jackets (if boating)
Those Summer Nights
Light weight jackets, sweatshirts for those cool summer nights
Miscellaneous
Electronics
Power Strip – hotel or rental may not have enough outlets
Rental House Needs – sheets-pillows-blankets-extra towels
Board games, puzzles, deck of cards – rainy days and down time
2. Do Your Research
Maybe you've been hitting this beach town since you were a kid or maybe this is your first trip…either way, find out what's new. A lot can change over the course of a year!  Most beach towns will have dedicated tourism websites and social media pages that you can visit for all the important info that you need to know.  Best restaurants, beach tags or no tags, trash and recycling days, weekly events, discounts and coupons.  Take the time to visit these sites to add some additional planning to your trip.
Looking for discounts, vouchers, etc…best places to check are online.  Follow top attractions, restaurants and local businesses on social media for special offers and discounts and any weekly promotions, like Kids Eat Free on Tuesdays or Twilight specials at the waterpark  Staying at a hotel or resort?  Call the front desk and ask if they have any local discounts available for hotel guests. Groupon and Living Social can also be a great resource for last minute deals.
3. Get Settled Without The Schlep (On The Beach, At Your Home or Rental)
Arriving in town or packing up to head home?  Ready to hit the beach but are dreading packing up and hauling all your things to your favorite beach?  If you live in a handful of beach towns in South Jersey, you are in luck.  Residents and visitors of OCNJ, Sea Isle City, Avalon and Stone Harbor, I'm talking to you!  Let me introduce you to Beach Caddy. This service just screams organized and essential for anyone who plans on spending time on the beach this summer. Beach Caddy is the brainchild of Radnor Elementary School teacher, Todd Serpico, his wife and a few smart friends. Your Beach Caddy will be your new best friend when they help you…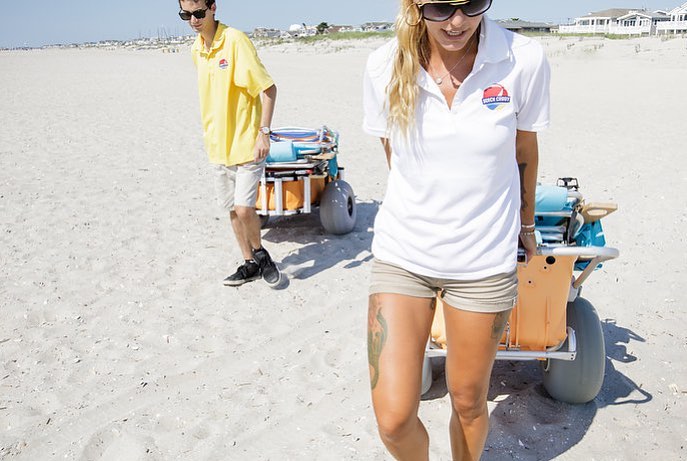 Get Settled In The Sand
They will pack up your chairs, umbrellas, coolers and anything else you need for fun in the sun. Beach Caddy will bring all of your belongings down to the beach and set everything up to your liking. Your Caddy will return at the end of your beach day, pack up your gear, bring it home, wash it off and store for the next beach day. Can you say AMAZING??? 
Make Moving Into (Or Out Of) Your Beach Home a Breeze
No one should have to lug the suitcases, the groceries, the beverages, and the toys up multiple flights of stairs. Your Beach Caddy will meet you at your beach house and carry all your things from your car to your living room.  Can't fathom packing your car up to head home?  Your Beach Caddy will come back & pack your car at the end of your vacation.
Head to the website or download the app to book!
4. Make Meals In Minutes
Less Fuss.  More Fun. You've spent all day on the beach and the last thing you want to do is cook dinner on a beautiful summer evening. So grab that class of wine, cozy up on the deck & let Homecooked handle dinner. All you need to do is pop your meal, dip, dessert, app in the oven, on the grill or in the crockpot – cook, plate & serve! So head to www.homecooked.net or pop in their Paoli storefront and stock up before you head out! BONUS:  Homecooked delivers to Ocean City, NJ up to 2x per month in July & August.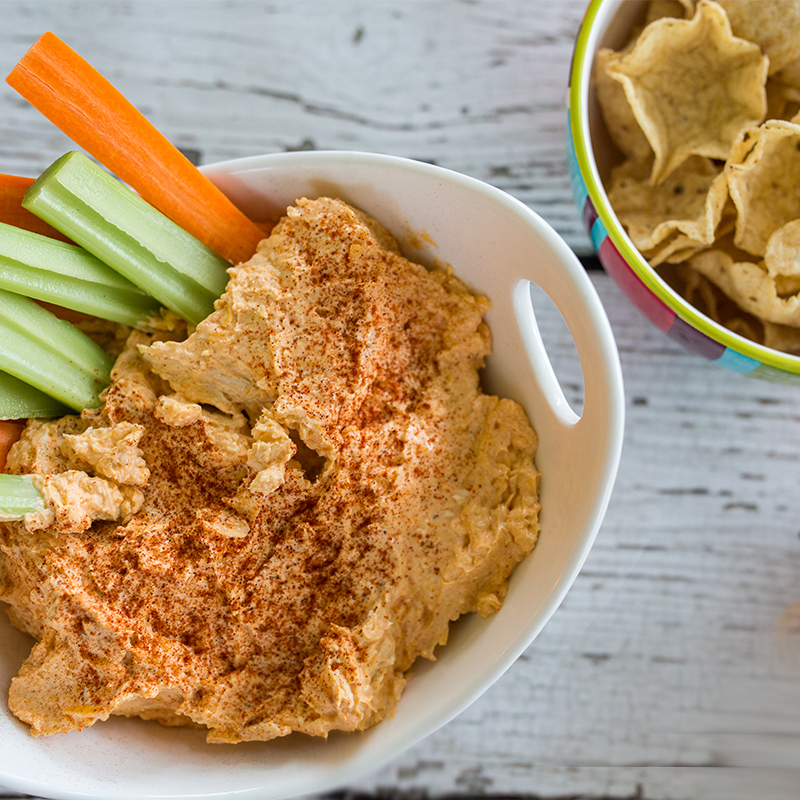 While you might not be boarding a plane or heading to an exotic locale, you can still have an escape at the Jersey Shore.  As with everything, it just takes a little planning!  You deserve a stress-free, relaxing vacation…a feet in the sand, fun in the sun summer vacation.  Enjoy!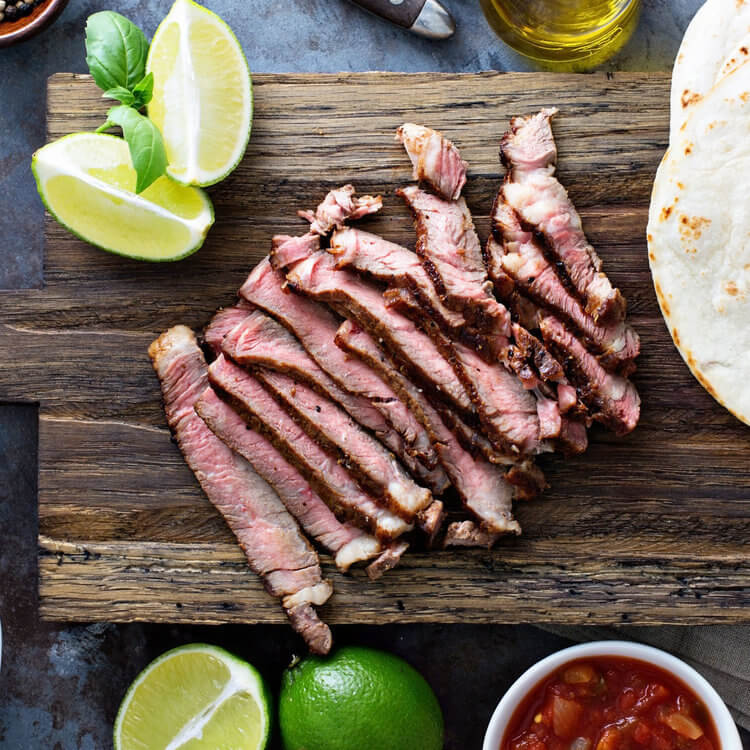 About Carrie Kauffman
Carrie Kauffman is an award winning professional organizer, member of the National Association of Productivity and Organizing Professionals, Greater Philadelphia Chapter (NAPO-GPC) and owner of Carrie's Essential Services, LLC. Carrie Kauffman provides organizing services, in homes & offices, on the Main Line and surrounding communities. Carrie's Essential Servicesspecializes in moving & packing, preparing homes for sale, office setup including filing systems as well as general organizing & de-cluttering.