Is your Facebook & Instagram feed filled with friends and family reveling in all things Disney?  Got a bad case of FOMO?
Hoping to head to Disney soon but feeling overwhelmed by all the things?  You are not alone and there is help!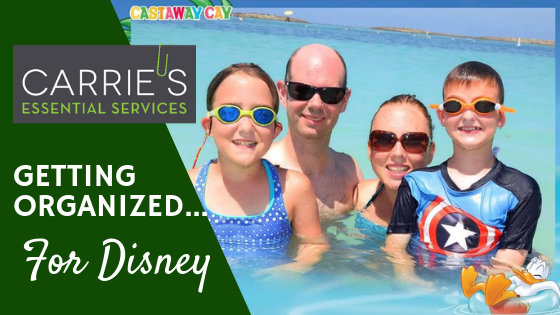 Mickey, Minnie, Goofy, Anna & Elsa, Magic Kingdom, Animal Kingdom, Cruise, Epcot, Fast Passes, Reservations, Park Times, Fireworks, Dining Plans and more….does Disney vacation planning have you feeling dizzy!?!?
As a seasoned Disney vacationer, I can tell you it is magical, and our family loves our Disney adventures.  But we've learned that each member of our family has preferences…when it comes to travel and entertainment.  The trick is making it memorable and enjoyable for everyone!  There's a steep learning curve.  Lots of moving parts, research and decisions to make…
I did what most first timers do when we took our first trip to Disney for the twins' 7thbirthday…I did everything myself.
I mean….I'm a Professional Organizer…how hard could it be?
I read all the books, did research online. I spent what seemed like hours, on the phone, on hold, waiting for a Disney Agent to answer all of my questions and hear my concerns. I got up early to secure my fast passes and dining reservations. Then I changed them after I found some good advice on the Disney online boards. Truthfully, I was exhausted from Disney and we hadn't even left yet.
I know I'm not alone…I know there are many parents who have done the same thing. Desperate to plan the perfect vacation for their family, they spend countless hours poring through all things Disney.
I don't want to any parents to feel spent before they step foot in the Magic Kingdom. I want your vacation to be easy as 1, 2, 3….Disney!  Here's how…
Disney Planning…Easy as 1, 2, 3…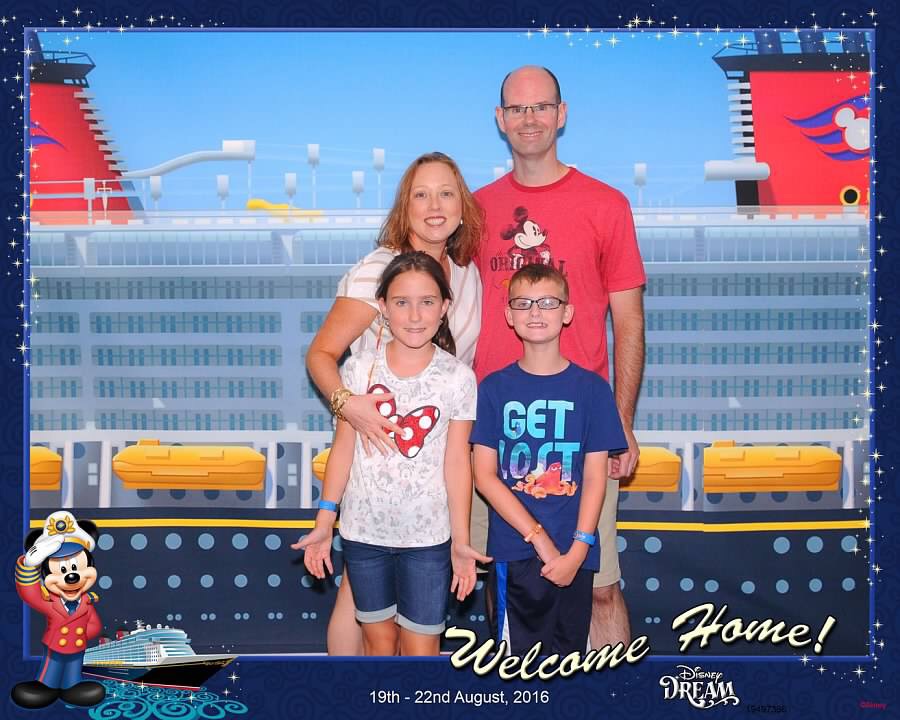 When it was time to plan our next Disney trip, a Disney cruise, I knew I just didn't have the time to research everything and frankly, I just didn't want to.  So, I got smart! We enlisted the help of 2 Dis Chicks with Ears of Experience. Now, I know I'm organized but these ladies know all the tricks of their trade and helped us plan the perfect Disney vacation. Using an expert was a HUGE game changer for me and my family and I highly recommend them to anyone headed to Disney…whether it's the first time or the 10th time.
Disney can be expensive. There's no way around it. Sure, your package may include hotel, transfer and meals…but not incidentals, gear, and everything that you'll encounter as you travel through the parks.
Shop in advancefor Disney related clothing, bathing suits, toys and other items…at the Disney outlet, Disney Store on clearance. This is a great way to save money. You'll get great deals the earlier you start.  Our Disney gear was in hiding for 10 months prior to our trip!  Surprise the kids on the day of or when you arrive.
Set aside daily spending cash, tips.  It was so helpful to have our daily tips ready for our Mousekeeping staff at the hotel.  I pre-stuffed envelopes for each day.  I labeled them, Monday – Sunday and sealed them with the stickers I received from Disney in anticipation of our trip.  It was one less thing that we had to do each morning as we got ready for a day at the parks. And we knew exactly how much we had set aside for this and could plan the rest of our budget accordingly.
Now this part comes easy to me.  I love packing…now, unpacking…not so much.
Things to consider when packing…seasonal weather, daytime vs night, length of trip, planned activities, carry-ons vs checked luggage.
Our first trip was 7 days in May.  2 adults and 2 (almost) 7-year olds.  I recommend packing about 5 days before you leave.  It gives you some time to evaluate what you have, what you need and what you may have forgotten.
Organize kids' daily outfits in bags.  I prefer to lay out the kids' outfits by day and place them in zip lock bags. I grab my label maker and label each bag by day, park and child. Each bag has a full outfit including socks, underwear and a pair of pajamas. If applicable, remember to coordinate outfits according to the Disney characters that you'll see that day. At this time, my son loved Jake from Jake and the Neverland Pirates so we had to see him. For my daughter, it was a meet and greet for Anna and Elsa so the princess dress was in the bag for that day!  Each morning, we put a new bag on top of their suitcase to keep them organized. At the end of the day, they put their outfit back in the bag and it goes back into their suitcase.  No more smelly suitcases, clothes go in and out and stay organized. This was also super helpful with laundry when we returned.  I always wash the kids' clothes together and then my husband and my clothes. I easily dumped the bags into the laundry baskets and I was set to go. No sorting.
STOCK YOUR ROOM WITH FOOD/SNACKS/DRINKS
Yes I went grocery shopping months before we even left. Garden Grocery, an online retailer, delivered groceries right to our hotel. So, we stocked up on water, breakfast items, snacks, beer and wine for our stay. It was easy, convenient and saved us money!
Disney is magical for all ages!  But staying organizing is essential to minimizing stress, maximizing fun and hitting all of the top attractions!  Happy Disney Planning!
About Carrie Kauffman
Carrie Kauffman is an award winning professional organizer, member of the National Association of Productivity and Organizing Professionals, Greater Philadelphia Chapter (NAPO-GPC) and owner of Carrie's Essential Services, LLC. Carrie Kauffman provides organizing services, in homes & offices, on the Main Line and surrounding communities. Carrie's Essential Services specializes in moving & packing, preparing homes for sale, office setup including filing systems as well as general organizing & de-cluttering.
About 2 Dis Chicks
2 Dis Chicks with Ears of Experience provide families with a stress-free Disney destination vacation by catering to your individual needs. We assist with every Disney destination from Walt Disney World and Disney Cruise Line to Aulani in Hawaii and Adventures by Disney. We help our clients by breaking down the steps of the planning process so that it is not overwhelming. With each step we provide expert guidance and a wealth of tips. Since no two families are alike, we personalize your itinerary based on your unique interests.
The advantages of booking with us are that we will make your Disney vacation magical at no additional cost to you and the best part is you receive two amazing specialists in one! We work together as a team to meet your needs
With a wealth of Disney Information & tips, we are the experts, we know the ins and out of Disney you can sit back and relax.