Last month, I had a chance to tour Cityteam in Chester, Pennsylvania.  If you're not familiar with Chester, it's the largest city in Delaware County.  And nearly 37% of its residents live below the poverty line.
Chester is a community with great need for the very basic essentials that many of us take for granted.  Cityteam provides support and resources for families and individuals who have fallen on hard times and are struggling to get back on their feet.  Cityteam gives them the tools to do just that.
Find out how you can help their mission and the people of Chester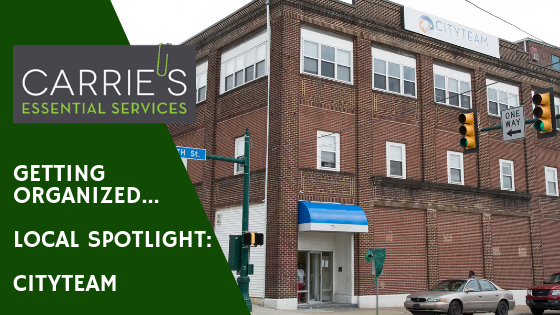 Part of my job as a professional organizer is to direct my clients' donations to local organizations, communities, families and individuals who truly have an urgent need.  It's important to me, both professionally and personally, that my work makes a difference in the lives of others.
Last month, I spent the day in Chester, Pennsylvania. Just about 25 minutes south of my home in Bryn Mawr.
The city of Chester is home to about 34,000 people.
It's the largest city in Delaware County, according to 2010 census data.
The poverty rate in the city of Chester is 36.9%.
That means nearly 37% of the population of Chester in living below the poverty line.
The median household income is $27,217.
People here, find themselves struggling for a variety of reasons.  They are hard-working parents of young children that couldn't keep up with the high cost of living and found themselves homeless, out of work, unable to put food on the table.  Others faced medical crises that forced them out of work and depleted their savings. Others battled addiction and found themselves homeless and living on the street.
Cityteam is a faith-based, non-profit, located in the heart of Chester.  It's purpose is to care for those in need in their community by providing much needed resources and support.  Their vision: Restoring lives and rebuilding this community through innovative programs to provide food, shelter, clothing, community, training and spiritual transformation.
Cityteam offers a broad scope of valuable resources for people who are in crisis. Resources and support to help them get back on their feet, back in the community, back in the workforce and able to provide for themselves and their families again.
Their programs serve individuals and families living below the poverty line and include:
Food Services
Providing warm meals & groceries via Hope Café, Dining Hall, Food Pantry, Fresh Produce and Baked Goods offerings
Men's Shelter
Providing a safe place for homeless men to sleep, grab a nourishing meal, clean clothing, hygiene kits and a hot shower
Men's Program
Providing a residential, Christ-centered, holistic program which empowers men to transform their broken lives
Learning & Career Center
Providing a learning center available to those in the residential program offering individualized learning plans to master educational concepts, life skills, including how to manage a budget, write a resume, in order to improve employability
Mother's & Baby Care
Providing support and resources for low income parents with young children, including Christmas toys, Easter baskets, school supplies and backpacks as well as everyday needs.
Family Services
Providing support and resources for families to break the cycle of poverty, including donations of furniture, clothing, food boxes.
Medical & Dental Clinic
Providing medical care provided in partnership with Widener University, including physical exams and education on disease management, lifestyle changes, self-care, diet, medication management, mobility and safety issues.  Dental care is also provided in partnership with local dentists.
Now…You're probably wondering…How can I help?
When I tell youany donation is accepted, welcome & needed, I mean exactly that.
From the everyday basics such as food, clothing, household items to men's & women's suits to baby clothing, gear, diapers, formula…Cityteam has an individual or family that needs it…right now.
So before you think someone may not want something you're going to get rid of because it's been worn, out of style or collecting dust in your closet, please think again.
I want Cityteam to be on the top of everyone's mind.
The most in-demand donations include:
Baby Clothing (All Sizes)
Diapers (Open & Closed Boxes are accepted)
Baby Wipes
Car Seats
Baby Food/Formula
Strollers
Cribs
Pack & Plays
Children Clothing (All Sizes)
Children Shoes/Boots/Rainboots
Adult Clothing (Men & Women; All Sizes)
Socks
Bras
Shoes (All Sizes & Varieties)
Formal Wear (For Prom Season)
Backpacks
Donations accepted 7 days a week. Donations are tax deductible.
Additionally, you can always volunteer your time.
Cityteam is always looking for individuals and organizations to volunteer their time for larger, annual events such as their Holiday Food Boxes & Back to School programs. Each Easter, Thanksgiving and Christmas, Cityteam volunteers put together 900 boxes of food to feed local families in need. And as the school year begins, Cityteam volunteers also need help assembling 2600 Back to School backpacks. Throughout the year, they also need volunteers to help pick up food donations from Wegman's, Trader Joes, Wawa, Whole Foods and other larger organizations.
I cannot thank Nancy Craskey, Director of Development at Cityteam, enough for taking the time to talk to me about Cityteam.  The volunteers, programs and resources are truly life changing for those in need. It is a tremendous resource that needs our attention and support.