Believe it or not…the holidays are right around the corner. Many of us will be hosting celebrations in our homes…from Thanksgiving dinner for 20 to holiday cocktail parties to intimate New Years Eve dinners…no matter the size of your affair, you need to be organized! I've teamed up with Renee Patrone, event planner and owner of Party Host Helpers and Events By Renee to get you organized Before, During & After your party….so you can actually ENJOY your event!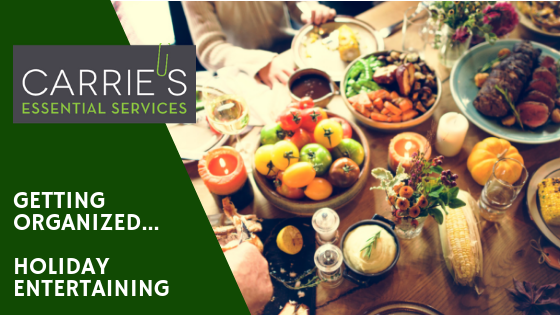 BEFORE your party
What kind of host to you want to be?
Are you an outsourcing host? Or are you an "I've got this" type host? Maybe you fall somewhere in the middle. First decide what, if anything, you want to outsource, ie: food, bar, kitchen help, valets or the whole kit & caboodle.
Renee's Pro Tip: Even if you are a hands on host – why not hire a service to do all the work DURING the party! Party Host Helpers are professional & experienced & can help with everything from set up to clean up! You deserve to enjoy your party!
Invitations – Who, What, Where, When
You've set the theme, date, time and place. Time to invite your guests. Don't keep them guessing! Provide them with all crucial details including attire, parking as well as what to bring (guests, food, wine, etc). Renee's Pro Tip: ask them what their favorite party or holiday song is and include it in your evening's playlist!
Simplify your menu (and your prep)
Even hosts who LOVE to cook don't want to spend days prepping & cooking in the lead up to the party. Catering and gourmet carryout can make life so much easier! Paoli-based HomeCooked's popular Simplify The Holidays menus are a hit with Main Liners. For Thanksgiving, you can order "The Works," offering a traditional Thanksgiving dinner with all the trimmings plus dessert! Or you can pick & choose the items you need. Heading to your sister's house and you're in charge of sweet potatoes? HomeCooked's got you covered. They come prepped & ready for the oven, complete with praline pretzel or marshmallow topping! Does gravy cause you stress? Order it and relax knowing lump-free and delicious gravy goodness is a sure thing this year. More Fun. Less Fuss.
BYO? Tell them what you want (or don't want)
Consider informing guests of any serious allergies in your home, such as peanuts, dairy, etc. If there will be kids in the house during the time of the party, consider labeling items with potential allergens or have guests avoid it all together. Spare yourself the awkwardness of NOT putting out a guest's favorite dish…Or better yet, if you are concerned about allergens in your home, take care of the food yourself.
Make Room – Hall Closet Prep
Fall and winter holidays mean colder weather. Your guests will, most likely, have bulky coats, maybe even scarfs, hats, etc. Carrie's Pro Tip: Empty your hall closet in advance of the party. Move current contents to a bedroom closet for the evening. If you are strapped for space or have a lot of guests, consider using portable clothing racks with hangers ready for your guests to use.
Make sure EVERYTHING is where it's meant to be
As a guest at a party, there is nothing worse than running out of toilet paper or not having hand towels in a bathroom! Carrie's Pro Tip: Stock your bathroom with anything and everything that your guests might need. That includes: extra rolls of toilet paper, hand towels or hand wipes, hand soap, hand lotion. If you want to go the extra mile, stock a basket with incidentals…think dental floss, mints, stain stick, tissues, feminine products, etc…
Dress Up Your Decor
Renee's Pro Tip: Don't spend a fortune on floral centerpieces! For Thanksgiving or fall tablescapes use a burlap runner, pumpkins and votives you already have around your home that time of year. Around Christmas, grab a large cylinder vase and fill with multi-colored ornaments or pixie lights.
DURING your party
If guests bring a dish…
If guests bring their favorite app, entrée or dessert on their own dishes, keep your post it notes at the ready. Carrie's Pro Tip: Write their name on a post it note and slip it under the dish. This is super helpful to return items to the appropriate guest and avoid additional clutter in your cabinets!
Raise the bar but keep it simple…
We recommend beer, red/white wine, sparkling and one seasonal signature cocktail…
Keep the supplies handy…
Make sure you have extra ice, extra booze and trash bags easily available!
AFTER your party
Lost & Found
After the party ends and all of the guests have left, you may find some items have been left behind. Take photos of the items. Online invitations, such as Evite, Paperless Post or even Facebook are great for reaching out to all of your guests before, during & after the party. Post photos of items ask guests to claim. After one month, donate any unclaimed items. Don't hang on to them. Let go of the clutter!
About Carrie Kauffman
Carrie Kauffman is an award winning professional organizer, member of the National Association of Productivity and Organizing Professionals, Greater Philadelphia Chapter (NAPO-GPC) and owner of Carrie's Essential Services, LLC. Carrie Kauffman provides organizing services, in homes & offices, on the Main Line and surrounding communities. Carrie's Essential Services specializes in moving & packing, preparing homes for sale, office setup including filing systems as well as general organizing & de-cluttering.
About Renee Patrone
Event planner Renee Patrone's motto is "life's a party, so enjoy it." Owner and founder of Events by Renee and Party Host Helpers, she has spent the past 12 years helping clients across the country turn their dreams and visions into a reality. From coordinating weddings to organizing corporate events to staffing a backyard BBQ – Renee knows what it takes to throw a party so you, the host, can actually have fun! She's been named "Best of Philly" for several categories and her expertise been featured in articles, blogs and TV stations in Philadelphia, New York City, West Palm Beach and more. Renee lives in Philadelphia but her suitcase is always packed for her next party adventure.