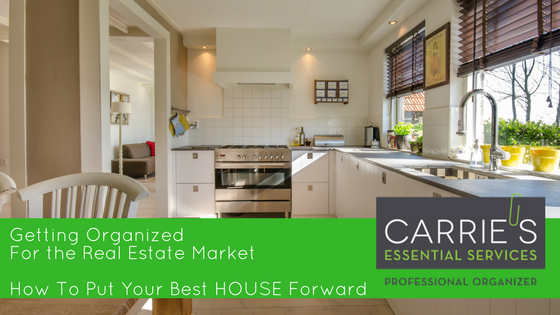 The Spring real estate market will be here before you know it.  Are you getting ready to buy, sell?  Wonder WHY decluttering your home is an important first step to getting it ready for the market?  I've partnered with Nicole Klein, Main Line realtor with Keller Williams Main Line Realty and The Nicole Klein Team to give you our Top 5 Reasons WHY You Must Declutter Your Home Before You List.
Market Conditions.
Price.
Comps.
Repairs.
Declutter.
Staging.
Open House.
If you're familiar with these terms you have, most certainly, spoken with a qualified realtor to help list, market and, ultimately, sell your home.
Your home, inside and out, is now a product.  You need to present it in a way that will appeal to the largest population of available buyers.  How do you do that?
As a Professional Organizer, it's my job to help you get ready by decluttering your home. This is a crucial first step in getting ready for market.
Nicole Klein, Main Line realtor with Keller Williams Main Line Realty and The Nicole Klein Team has a unique skillset with professional experience in both real estate as well as retail visual merchandising.  Her clients find that this combination is a tremendous asset when staging, photographing and, ultimately, marketing their homes.
But WHY do realtors and professional organizers agree that a clutter-free and organized home is so important when trying to sell?
Consider Our Top 5 Reasons WHY You Must Declutter Before You List…
#1 WHY
Realtors recommend it!
---
Your realtor is your biggest advocate of your home to potential buyers. The great ones know your home, inside and out. They know what can help (and what can hurt) your chances in the current real estate market.  They can see things that need to be done from their first walk through.  Their first impression will mirror your potential buyers first impression.
If they can see the clutter in your home…then every potential buyer can see it as well.
Klein offers, "Sellers who work with professional organizers, prior to meeting with me, have done most of the work upfront, allowing me to focus my attention on prepping the home for photos and showings."
She also recommends that clients remove any items in the room that are smaller than 12 inches.  "This makes pictures cleaner and keeps your eye focused on the space as opposed to the stuff."
Your realtor knows the market.  The recommendations that they offer will give your home the best chance to be sold quickly, at top market value.
Realtors know that a clutter-free home sells faster.
Less clutter means:
Buyers aren't distracted by your stuff.
Buyers can picture themselves in your home.
#2 WHY
You've got a lot stuff!
---
Whether you've lived in your house for 5 years or 45 years, you've got stuff.
Decluttering your home will prepare you, mentally, for the next chapter of your life.
Pre-pack items you'll take to your next home.
Toss items you haven't touched in years.
Now you've got a jump on packing. It will be more manageable if you start early and do it over time.
#3 WHY
You'll save money when you move!
---
When you get rid of items that you don't need or use, you have less stuff to move!
You'll save on moving costs when your house does sell. Moving costs can add up quickly.  The top reason for that, is most people don't declutter before they move.  They just pack everything.   It's just good sense.  Less stuff.  Fewer boxes to pack.  Fewer hours for moving companies to charge.
#4 WHY
Potential buyers expect it!
---
Your house isn't the only one for sale.
Assume that buyers have already previewed your home online, along with many others.  If your home appears cluttered or disorganized in the online profile, they won't be interested in seeing it in person.  You've already lost them.
Klein estimates that "95% of buyers look at the home's photos online before deciding to see the house in person.  For this reason, it is critical that your home photographs well."
When you do get buyers through the door, they will be inspecting every nook & cranny.
Closets.
Cabinets.
Drawers.
Basement.
Attic.
You've got one chance for a great first impression.  Don't waste it.
#5 WHY
It shows you care!
---
When buyers see a clutter-free home they see that you've taken the time to get the home ready for them. You took the time to declutter and organize all rooms and spaces. You took the time to remove personal items and potential distractions. By doing this, you've enabled them to imagine themselves living there and making this their new home.  And arguably, they'll assume you've taken good care of your home, with regular maintenance and care, during your time there.  They'll feel that your home is a good investment.
The process of selling your home can be incredibly stressful.  Set yourself (and your home) up for success by committing to the preparation involved.  Declutter, make repairs, stage, if recommended.  Trust that your realtor knows exactly what you need to do to sell your house quickly, for the most money and follow their lead!  Good luck!
About Carrie Kauffman
Carrie Kauffman is an award winning professional organizer, member of the National Association of Productivity and Organizing Professionals, Greater Philadelphia Chapter (NAPO-GPC) and owner of Carrie's Essential Services, LLC. Carrie Kauffman provides organizing services, in homes & offices, on the Main Line and surrounding communities. Carrie's Essential Services specializes in moving & packing, preparing homes for sale, office setup including filing systems as well as general organizing & de-cluttering.
About Nicole Klein
The Nicole Klein Team works with buyers and sellers in Philadelphia, Montgomery, Chester and Delaware Counties. Our market knowledge and seamless service makes buying a home or selling an enjoyable process. Nicole has been in Real Estate full time since 2007. She really enjoys helping buyers and sellers reach goals that they have only dreamed possible. Being a Realtor allows Nicole to use her people skills along with her strong negotiating skills. Originally from Doylestown, she now resides in the Merion Golf Manor section of the Main Line. She loves the area because of its close proximity to Philadelphia, Chester, and Montgomery Counties. Nicole works with her buyers to find the best home for them in the area that they will love. Nicole will be there every step of the way until closing and beyond. With her market knowledge her sellers are able to get the best price for their home in shortest amount of time. Before getting into real estate, Nicole worked in retail as a manager and regional manager for Nordstrom. This prepared her for real estate in so many ways including providing the best service to her customers and delivering seamless results. Nicole looks forward to working with you and helping you achieve your real estate goals.