It's official.  Time to start thinking holiday…everything you need to know to reduce clutter and make the holidays more manageable this year!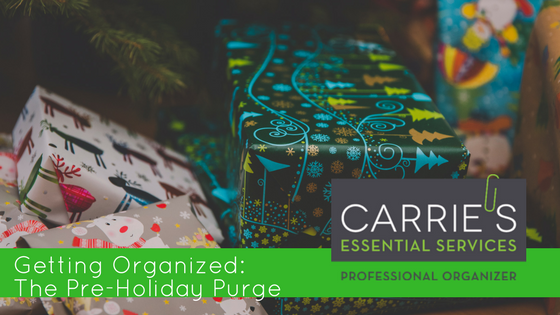 Getting Organized – The Pre-Holiday Purge
By Carrie Kauffman, Professional Organizer
The holidays are right around the corner and we all know what that means…more STUFF…more toys, more books, more crafts and less room in your playroom, family room, bedroom!
Tell me…has this ever happened to you?  You're feeling great because you are way ahead of the holiday shopping game, buying gifts for your kids, family members throughout the year and you've hidden gifts away for safe keeping.
BUT THEN…you forget you have them.
And when you finally discover them…the holidays are over and the kids have outgrown them?  I've seen this with clients in the past
I want to share some tips to control clutter and make the holidays easier.  They work, not only for me, but also my clients.
OUTGOING…All The Kid Stuff – Toys, Books & Crafts
My twins were born in May. When they were very young, I started doing a big toy/book/craft purge twice a year – one right before their birthday and the other right before Christmas. I've found, with this system in place, it's easier to stay on top of the kid clutter throughout the year!
REMEMBER – Clutter can be just as overwhelming for kids as it is for adults.
Kids get SO MANY new toys, crafts, books over the holidays from parents, grandparents, aunts, uncles, etc.
I find that books and creative materials are something that people do not declutter enough!  Broken crayons in drawers and half complete coloring books…time to toss or donate!
The following tips should be considered for your kids' toys, books AND crafts.
1.) Keep an eye on what is holding their interest and what's collecting dust.  Toss or donate items that are no longer used.
2.) Toss or donate items that are a.) no longer age appropriate or b.) are missing pieces, damaged
3.) Are there items you want to keep for nieces, nephews, younger siblings?  Wipe them down and store away until ready to use.
4.) Evaluate your toy/book/craft storage.  Would a new piece for the playroom help tame the remaining items?
DONATING…My Go-To Resources and Locations
Pre-holiday is a great time to donate toys, books, crafts.
PRESCHOOLS
Local preschools are frequently in need of gently used toys or books.  Research your local preschools and call in advance.
ONLINE YARD SALES AND COMMUNITY SITES
Free Cycle is great because it's local and available in most states.  Also, check out Facebook for local community groups and marketplaces.
NON-PROFIT ORGANIZATIONS
In Philadelphia, I love Cradles to Crayons.  This is an organization that donates clothes, books and games to local families in need.  Investigate similar non-profit organizations in your area.
THRIFT SHOPS
Local thrift shops are a great resource and many have a community-based mission. Nana's Attic in Broomall (Lawrence Park Shopping Center), benefits Domestic Abuse Project of Delaware County. Also Junior League of Ardmore will take toys, games, books etc.
INCOMING…Holiday Gift Giving
Repeat After Me…I have control over holiday gift giving!
Yes!  You can control it.
When writing their holiday wish lists, kids will ask for the moon and stars – new iPhone, computer, trips…the sky is the limit (and money is no object), in their minds!  When thinking about holiday gift giving AND offering advice to family members on what your child needs/wants, I LOVE these guidelines that have been circulating on social media:
1.) Something they want
This can be one toy that they have been eyeing up at a local toy store or online.  My kids love Pucci Manuli in Ardmore, PA . It is a wonderland for kids and those who are young at heart! Carrie Kohs has curated a unique collection of toys with the highest level of craftsmanship. AND they offer free gift wrapping and personal shopping, which makes ME happy!
2.) Something they need
This can be anything from new toothbrushes to new hair ties or even socks. The items that need to be replaced most frequently.
3.) Something to wear
My daughter loves boots and shoes. So that's my go-to, for her.  But I always abide by the "one in, one out" rule to minimize clutter. My son loves the Eagles. For him (and my husband) new game day shirts are on my list.
4.) Something to read
Research and support local children's authors, home to your area. Pick up their latest release. These books are great for your family library. A great resource, in my area, is Ellen Trachtenburg and Narberth Book Shop in Narberth, Pa.  It is one of my favorite locations for new books. I could spend hours getting lost in all the wonderful selections. You'll find something for everyone and you'll give back to the local community by shopping local.  If you're not in the Philadelphia suburbs, seek out your own locally owned book store.
5.) Something to do as a family
Experiential gifts are always a great idea and CLUTTER-FREE.  This fall, our family went to Cherry Crest Adventure Farm and my kids LOVED it. They begged to go back each week so, this year, I will purchase a family pass for us to enjoy year long.
The holidays can be stressful.  But reducing clutter can reduce stress!  I hope these tips make your holiday more manageable and joyful!
Happy Holidays!  And Happy Purging!
About Carrie Kauffman
Carrie Kauffman is an award winning professional organizer, member of the National Association of Productivity and Organizing Professionals, Greater Philadelphia Chapter (NAPO-GPC) and owner of Carrie's Essential Services, LLC. Carrie Kauffman provides organizing services, in homes & offices, on the Main Line and surrounding communities. Carrie's Essential Services specializes in moving & packing, preparing homes for sale, office setup including filing systems as well as general organizing & de-cluttering.