According to the 2016-2017 Pet Ownership Survey, 68% of all U.S. households own a pet.  That's one more family member to get organized!!  I recently had the pleasure of collaborating with one of my favorite animal lovers…local veterinarian, Dr. Heather DiGiacomo, VMD, owner of Newtown Square Veterinary Hospital.    Check out our blog for everything you need to know about organizing for pets – from bringing home your new furry friend to organizing all of their belongings to how animal shelters can be your new best friend when it comes to decluttering your home!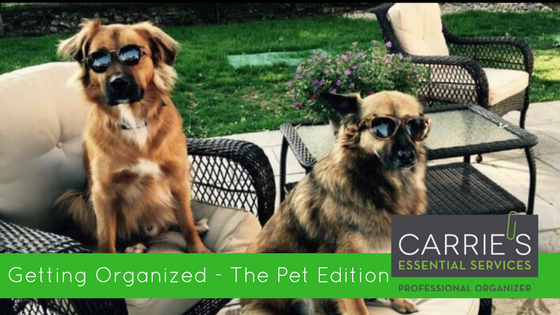 Let's talk about our furry family members and friends.  Adding a pet to your family is no small undertaking!  There's plenty of planning involved and the more organized you are…the better!  I'm teaming up with my favorite local veterinarian, Dr. Heather DiGiacomo, VMD, owner of Newtown Square Veterinary Hospital to give you the best information on getting and staying organized as a pet parent.
Pets have plenty of stuff that can cause clutter in our homes.  Whether you are about to become a pet parent or you've had pets for years…being organized is helpful to everyone who cares for your pet.  From food to toys to leashes to medication…let's tackle the pet clutter!  But first…some helpful planning tips for new pet parents…
Preparing Your Home & Family For Your New Pet
Before any pet comes into your home, it's equally important to 1.) educate your family on life with a pet and 2.) set your new pet up for success by creating a welcoming home environment. Things to consider:
1.) Your Pet's Safety & Family Responsibilities
Educate yourself and your family on who will care for your pet and how to keep your pet safe.  This includes:
Common household items that could be harmful to your pet, including human foods, house plants, and neighborhood fauna!
Talk as a family about the responsibilities that each family member will have when the dog arrives.
If you have small children educate them on life with puppies, ie: common behavior, best practices and general safety rules
2.) Your Pet's Space & Essential Gear
Make sure that the house is clutter free, especially of small toys and shoes. Puppies like to chew and these items are common targets!
MUST HAVE PET GEAR:

Collar, Leash, Harness
Food bowls/dispenser
Floor tray to protect floor
Chew and other toys
Storage bins for food and toys
Bed
Crate, Tank, etc…
Travel carrier
3.) Your Pet's Health & Daily Care – Professionals You'll Need
Investigate local veterinary clinics; see what services they offer.  Do a site       visit.  Get personal recommendations from friends, family members, community experts; check them against online reviews.
What to Look For:
Physician credentials, training
Practice mission & patient approach
Office Cleanliness
Staff Friendliness
Is it a Fear Free Clinic?
Is it a Cat Friendly Clinic?
PET BOARDING/GROOMING/SITTING/TRAINING
Pets can require a whole team of professionals to keep them healthy, fit,         entertained, stimulated,   well-trained and well-groomed.  Similar to             finding a vet for your pet, you want to do your research when selecting a         pet professional for boarding, grooming, training and pet sitting/daycare.  You must plan a site visit to the facility that will be caring for your vet.     Reputable facilities will offer site tours, no questions asked.  Get personal        recommendations from friends, family members, community experts;   check them against online reviews.
What To Look For:
Board certifications and credentials
Is the facility insured and bonded?
Facility Safety
Facility Cleanliness
Staff Friendliness
PET INSURANCE
We are very strong advocates for pet insurance at Newtown Square     Veterinary Hospital! Many people dramatically underestimate the costs   associated with veterinary care. We find that our patients who are insured     really do get the best care; the client is able to do what's best for the pet,            without taking economics into the equation. The ideal scenario is to enroll your pet when they are young and healthy, before any pre-existing
conditions are diagnosed. Not all pet insurance companies are created             equal, and not all offer the same types of coverage. Ask your veterinarian             which plans they think are best!
Preparing yourself and your home will make this new chapter in your life an easy transition.
Getting Organized…For Pet Owners
Food Organization 
Pet foods, particularly kibble, should be stored in airtight, sealed Tupperware containers.

These containers should be emptied and regularly washed thoroughly with hot water and dish soap. This can help prevent grain storage mites, which are a common allergen for many pets. It can also help keep mold at bay.

Veterinary prescription diets should be kept in their original packaging, as these food bags are carefully engineered to keep the active ingredients fresh, and preserve the integrity of the food.
Food should be stored in a climate controlled area such as a pantry.
When storing pet food, the same principles apply as to storing human food! Avoid rooms/areas that are damp, hot, humid or likely to have pests such as mice or ants. Basements and garages are not ideal locations for pet food storage.
Pet Medication Organization
Pet medications should be stored in a cool, dry place free of direct light and humidity.
Many medications are light sensitive and should be kept in their original packaging to prevent them from being inactivated by light.
Pet medications should be stored separately from human medications to avoid any mix-ups!

A clearly marked bin or drawer for your pet's medication is key especially if you have multiple pets taking medicine. This can be as simple as a shoe box for each pet or a drawer divider for each animal.

Check medications regularly and dispose of any expired medications, as these may be ineffective for your pet.
Expired medications should be emptied from their containers, and can be ground up and mixed with unpalatable substances such as used kitty litter or coffee grounds. These can then be disposed of in regular household trash. Alternatively, many townships and police stations offer prescription drug "take back" days. A link to these events can be found on the FDA website.
Getting Organized…Where To Donate
Animal Shelters
You may be aware that animal shelters rely on donations from their local community to operate and to provide care to the animals in their care. But did you know that animal shelters are great places to also donate your unwanted household items as well?
Here's a list of pet items as well as common household items that they can always use:
1) Linens, Towels and Blankets
Your retired linens, towels and blankets gain new life.  At the animal shelter, they are used for bathing, comfort items in crates.
2.) Old detergent and bleach
Animal shelter staff and volunteers need detergent and bleach to keep linens clean for the animals.
3.) Cat food and dog food
If your furry friend no longer eats a certain brand or you have left over food, animal shelters will be happy take it.  This includes open bags of pet food including treats. Common everyday foods, such as peanut butter, canned tuna or canned chicken is a special treat for animals.
4.) Unused pet carriers or dog crates and other gear
Maybe your pet has outgrown it or no longer uses it, the animal shelter will always have a pet that needs a new place to sleep or other common pet items. They are happy to take:
Food bowls
Leashes and collars
Cat litter
Newspapers
Trash bags
Dish sponges
Dog waste bags
Tennis balls
Chew toys
5.) Unused Pet Medication
Medications that are not expired but that your pet no longer needs should be donated back to your veterinarian or to a local animal shelter. Many veterinary hospitals keep donated medications to give to clients in need.
Adding a pet to your family is one of the best decisions that you can make…as long as you are prepared for all that pet ownership entails!  While this certainly doesn't cover EVERYTHING you need to know about getting and staying organized as a pet parent, this is good start! Don't forget!  If you are every struggling with a home organizing project, pet or otherwise, please join our Facebook community, Getting Organized On The Main Line for advice, support and great ideas!
About Carrie Kauffman
Carrie Kauffman is an award winning professional organizer, member of the National Association of Productivity and Organizing Professionals, Greater Philadelphia Chapter (NAPO-GPC) and owner of Carrie's Essential Services, LLC. Carrie Kauffman provides organizing services, in homes & offices, on the Main Line and surrounding communities. Carrie's Essential Services specializes in moving & packing, preparing homes for sale, office setup including filing systems as well as general organizing & de-cluttering.
About Dr. Heather DiGiacomo
Dr. DiGiacomo has over a decade of experience in small animal medicine and surgery. Having worked at several of the most prestigious practices on the Main Line, Dr. D has extensive experience in veterinary gastroenterology, dermatology, radiology, internal medicine, pediatric medicine, soft tissue surgery and palliative care (among many other subspecialities). Dr. DiGiacomo is a member of the American Veterinary Medical Association (AVMA), the American Association of Feline Practitioners (AAFP) and the International Veterinary Academy of Pain Management (IAVPM).
Newtown Square Veterinary Hospital is a progressive, privately owned, boutique-style, full service veterinary hospital created by Dr. Heather DiGiacomo, VMD, a lifelong resident of the Main Line and an experienced small animal veterinarian.  As many veterinary hospitals are sold to corporations, and appointments become rushed and impersonal, Dr. DiGiacomo has designed an innovative veterinary model where client and patient relationships are cultivated and nurtured.