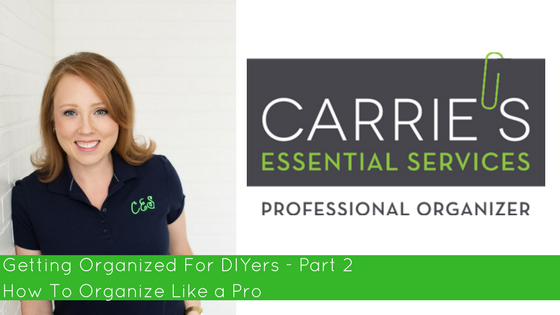 Ready Set Go!  Employing the Carrie Method for Organizing
If you've read Part 1 of this series, you are PREPPED!  You have all of your supplies ready, you know where donations are going and you have left yourself plenty of time to work on the project. Time to get to work!
As a professional organizer, I've developed my organizing approach over the years.  Let's call it The Carrie Method.  It's repetitive, systematic, methodical.  It's served me well over the years.  It's helped me evaluate a space, work it quickly and efficiently and improve the organizing systems for the future.  And I hope it will do the same for you!
Always Declutter First
Take out everything you can see in front of you. Remove anything that doesn't belong in that room. Do this first, even before you open a single box or bin.  Start closest to the door or room entry.  Take out what is trash, recycling, donations and items that belong to other rooms or other people. Start filling your labeled bags with trash, donation, recycling, or other.
Next, continue to declutter.  Open boxes and bins, at one time.  Start closest to the door or room entry.  Take out what is trash, recycling, donations and items that belong to other rooms or other people. Start filling your labeled bags with trash, donation, recycling, or other.
After you clear each box or bin of clutter, anything you wish to keep should remain in that container. Label it properly detailing the contents, ie: holiday items, photos, tax information, kids clothing, etc… Keep going with this process until you've gone through all the boxes, bins, drawers in the room. All trash, recycle, donations, items to keep are now in their proper bags or containers, ready to go to their designated areas.
Regroup, Reevaluate
After decluttering, take a look at everything you just took out of the room and the items that remain.
How are you storing your remaining items?
Are you able to find things when you need them?
Are there piles of paper that need to be addressed?
Did you find items you've been looking for?
Did you find overdue bills? Missing paperwork?
Take a good look your current system…the good, the bad and the ugly.
This is the time to right this ship!
Organize What's Left
By now, you're left with the items that belong there. Now, let's organize it.
 Like items go together
Start collecting all of the items that are alike.  Put them together in a bin, box or drawer. Label that container with a clear, identifying name, ie: Holiday-Christmas-Easter.
Utilize shelving and storage
Put the items back in their proper places in that room. Only keep items in that room that are specific for that room or space.  Store items that you use frequently: daily, weekly, monthly, right in front where they are easily accessible.  Make sure containers are clearly labeled.
Organize better
Determine whether you need additional items to help better organize the remaining items.  New containers/bins, new shelving, pegs for the walls, cubbies, etc…any additional items that will allow you to maintain this organized space will help you in the long run!
This process should be repeated for each room or space in your home.
Too overwhelming?
Follow these simple tips for a slower approach:
Take a before photo of the space
Set a timer for 10 minutes
Declutter space
After 10 minutes, take another photo.
Seeing the progress, after just 10 minutes, WILL motivate you.  You'll WANT to keep going. If ten minutes is a good pace, stay with that. Getting excited by your progress? Try increasing the time intervals to get the project finished quicker.
Take breaks as necessary…but not too long that you lose focus.
Add your favorite music to keep spirits up.
Save boxes of tough memories until the end or when you're ready to tackle. Don't let it derail your forward progress.
Congratulations! You Did It!
Everything Is Where It's Meant To Be.
Now Don't Backslide
Keep those before and after photos in your phone. Set a reminder for 6 weeks to remind yourself of your DIY Organizing Success. Revisit the space.  Is it still organized?
Valuable Resources
Items to Haul Away? Try Indian Valley Trading Company
Owner Dan Ireland does this for clients on the Main Line and surrounding suburbs. I have worked with Dan personally and my clients are always happy with their work.
http://www.indianvalleytradingco.com/
Items to Shred? Try R Mobile Paper Shredding
This company will come to you, pick up your important shredding and shred it for you. They have a great story.  Check it out!
http://www.rmobileshredding.com/
Electronics to Recycle? Try Best Buy or Staples
Great for recycling electronics and wiping PC and device hard drives of personal information. There are costs associated with these services. Call ahead and talk with a representative for more information on your specific needs.
Bulk Items for Pickup? Try Your Local Township
Contact your local townships or cities for big bulk item pickups and disposal of chemicals and hazardous waste items.
Good luck with your project!  I hope that this series has helped you get started and stay motivated to organize your home.  Remember, you can always reach out for help, support and advice by visiting my Facebook community of over 8000 strong – Getting Organized On The Main Line.  We'll be your cheerleaders along the way!
About Carrie Kauffman
Carrie Kauffman is an award winning professional organizer, member of the National Association of Productivity and Organizing Professionals, Greater Philadelphia Chapter (NAPO-GPC) and owner of Carrie's Essential Services, LLC. Carrie Kauffman provides organizing services, in homes & offices, on the Main Line and surrounding communities. Carrie's Essential Services specializes in moving & packing, preparing homes for sale, office setup including filing systems as well as general organizing & de-cluttering.