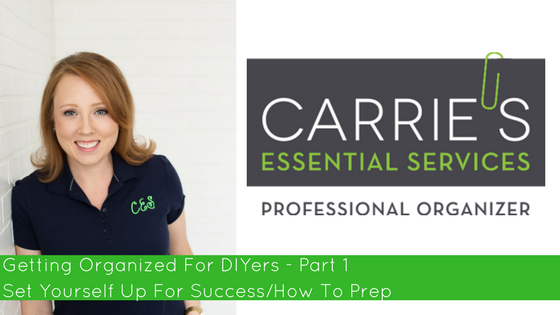 You're ready.
Your stress level has reached its peak.
It's time…To tackle your very own home organizing project.
You've blocked out some time of your calendar. But you're frozen.
How do I begin?
What supplies do I need?
How long will it take?
I've been a professional organizer for 6+ years.  I've developed a tried & true method for organizing any space.  And now, I'm going to share it with you…in this 2-part series.
But first, prepare yourself.
Set Yourself Up For Success! How To Prep Before You Begin Your Project
Before starting any project, big or small, it's important to your prep work.  That includes physical preparation as well as mental.
1.) REALITY CHECK
Take a good, hard look at the project and determine how long it will take to complete. If you have a full basement, packed to the gills, be realistic. A couple of hours will not do it. Large projects can take months or even years to complete. Don't pack on the pressure. Look at each project with eyes wide open – if it's a large project, try setting aside one weekend per month and tackle as much as you can in those manageable chunks of time.
2.) TOOLS OF THE TRADE
My organizing supplies are fairly standardized:
Trash bags (label them trash, donation, other)
Recycle bags
Boxes
Tape
Permanent makers
Label maker, Labels, Post-It Notes
Timer – for reminders; take a break
Camera – for before, during, after photos
Shredder – for important documents that need to be destroyed before disposal
These items will keep YOU organized, allowing you to get items ready to discard, one way or another, trash, recycle, donation, etc., as you work through your space.
3.) GET YOUR MIND SET
When you're working alone, you must be your biggest cheerleader. The project may appear taunting but it needs to get done and you can do it.  This is a personal challenge, one that you can complete, all on your own. It will get hard at times. Stay focused and motivated.  Take breaks to regroup.  Refer to your before pictures to see how much you've accomplished.  And JUST. KEEP. GOING.
4.) WHAT NOW? KNOW HOW AND WHERE IT WILL GO
Research your local resources.
Know when it's your trash and recycling days.
Know where your donation centers are located.
Know what your donation centers take and what they don't take
Know how to dispose of paint and hazardous materials.
Know what will need to be picked up
Know who to call to schedule pickup
Toss, recycle, donate as you go…don't leave these items in your home for extended periods.  Get it out!
Next up…getting started.  Check out Part 2 of our Organizing DIY series.  I'll share the Carrie Method for organizing any space!
About Carrie Kauffman
Carrie Kauffman is an award winning professional organizer, member of the National Association of Productivity and Organizing Professionals, Greater Philadelphia Chapter (NAPO-GPC) and owner of Carrie's Essential Services, LLC. Carrie Kauffman provides organizing services, in homes & offices, on the Main Line and surrounding communities. Carrie's Essential Services specializes in moving & packing, preparing homes for sale, office setup including filing systems as well as general organizing & de-cluttering.