Home Organization for Aging Parents & Seniors
By Carrie Kauffman, Professional Organizer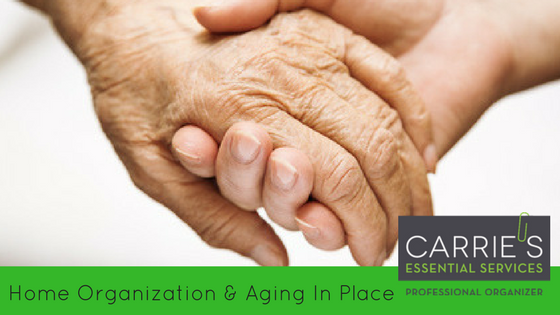 An organized home makes life easier for everyone living there.  This is especially true for aging parents or in-laws who want to continue to live independently. Aging in place is a top priority for many seniors.  They enjoy their home.  They are comfortable there. They love it and want to remain there for as long as possible.
But, in many cases, the responsibilities of caring for themselves and their home become too much to handle.  Clutter can cause stress. Compound that with missed doctor's appointments, medication mix-ups, falls and resulting injuries…Getting and staying organized is even more important as we get older.
By reducing clutter, maximizing safety and putting organized systems in place, seniors can stay in their homes safely…for a longer amount of time.
Best Practices for Organizing for Seniors
Prioritize safety & accessibility
The items they use most often should be easily accessible and, ideally, within arm's reach.  Take into consideration physical limitations, including mobility and vision, when planning living spaces.
Prevention of stair falls is a #1 priority since one fall can "change it all," and not for the better.  A stair lift is the most efficient way to prevent dangerous falls.  101 Mobility of Greater Philadelphia has proven to be a reliable and affordable local resource providing quality home mobility equipment like stair lifts, wheelchair ramps, vertical platforms and home elevators.  They offer sales, rentals and refurbished units and have the only buy back program in the area, so if a move is in the future, you don't have to lose your whole investment.
Involve them in the process
Remember, this is their home.  Ask for their opinions.  Ask them before you toss something.  Ask them what would be easiest for them.  Ask them to be honest with you (and themselves) about their physical limitations and mobility concerns.  Ask them how they feel about everything!
Ready to get started?
Top Organizing Tips For Seniors
Less Is More
After decades of living in the same space, seniors accumulate a lot of stuff.  Go room by room and declutter to maximize space and accessibility– toss/donate anything that is no longer needed or used.  Ask your loved ones if they have any problems using the items they currently have. Too heavy, too hard to use, no longer in use?  Time to toss or replace with new items that are easy to use.
Once you eliminate the things they don't need, you can start organizing each living space with their individual, and possibly changing, needs in mind.
Keep It Simple (Well Lit & Labeled)
Labeling shelves with large print can be invaluable when putting organizing systems in place.  Labeling cleaning supplies can ensure that the correct product is being used.  Don't forget to throw away any expired food or cleaning supplies.
When arranging furniture, a simple, clutter-free floor plan is ideal.  Eliminate extra furniture that is taking up space or impeding walkways. Are there too many floor lamps with electrical cords all around? Position the lamps with cords out of the way while providing ample light.
Keeping a few canes around the house is also a good idea.  If a wheelchair or a walker is being used in the home, make sure walkways are clear and wide enough to accommodate the equipment.  101 Mobility can also help with home modification like door widening, grab bars and bathroom modifications.
Be Strategic With Your Upper & Lower Cabinets
If bending down is difficult for your parent or loved one, consider adding glide-out shelving to existing cabinets, or move items up to a higher cabinet that they can easily access, without having to bend down. Glide-outs under the sink are important as well. Adding this type of shelving can be helpful to stop unnecessary bending and stress on backs, knees and legs. I even do this in my own home for my husband and children.
ShelfGenie has been a trusted resource of mine for glide-out shelving in kitchen cabinets, pantries and bathroom vanities.  Thoughtful design, excellent warranties and customer service, and quality products earn them repeated awards in the industry and rave reviews from me and my clients.
Manage Medication
If your loved ones are taking multiple medications on a daily basis make sure that they are stored together, in one central location.  Consider storing all medications in a clear container, labeled for each parent/resident.  Separate into daily pill compartments to avoid forgetfulness.
In Case Of Emergency – Important Documents
Paper clutter can become unruly, no matter your age.  However, it is vitally important that seniors keep all important medical, financial and legal documents in one central location.  Caregivers should be aware of the location for easy access in case of emergency.  Start with either a clear file storage crate or box, with or without lid.  Organize medical, financial and legal information in order of importance – specialists, primary care physician, medications, power of attorney, living will, bank statements, insurance and investment information, etc… Make sure the labels are large enough for anyone to read.
These tips come from years of working with clients but also, my own personal experience.  I lost my father at a young age and I was in charge of handling his affairs. Losing a parent is impossibly hard.  Not being prepared can compound the emotion and stress of an already challenging time.  Take the time to organize your home and affairs now.  It will save you time and heartache down the road.
Resources
Stacy Rosen
ShelfGenie, Senior Designer
Mobility 101, Consultant
215-460-4160
About Carrie Kauffman
Carrie Kauffman is an award winning professional organizer, member of the National Association of Productivity and Organizing Professionals, Greater Philadelphia Chapter (NAPO-GPC) and owner of Carrie's Essential Services, LLC. Carrie Kauffman provides organizing services, in homes & offices, on the Main Line and surrounding communities. Carrie's Essential Services specializes in moving & packing, preparing homes for sale, office setup including filing systems as well as general organizing & de-cluttering.