Back To School Organizing Do's & Dont's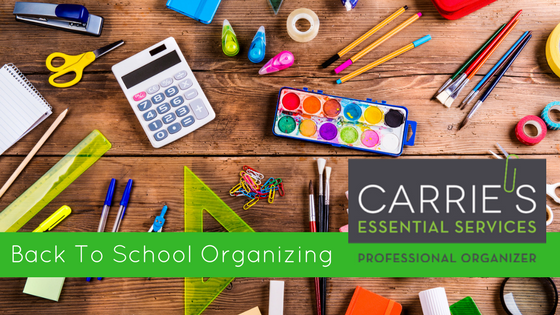 OK, folks…it's August.  Any day now, the mail will arrive with teacher assignments and the excitement (and anxiety) of the new school year will start to bubble up!
While the kids won't go back to school for a few more weeks, we all know the planning for the FDOS starts much sooner, behind the scenes…The work done here will set you (and your kids) up for a successful transition from summer to school!  Check out my Do's & Don'ts…they save me the first day headaches…every year!
1.) DO Roll Back…Bedtime
The relaxed bedtime routine during the summer can be a FDOS killer…but only if you let it.  One small adjustment, each day, in the week or two leading up to the start of school can ensure success. It starts with setting their bedtime back 15 minutes each night.  Continue until you roll back to desired school year bedtime. Now, when it's time to get up at 6:30am, they are adjusted to the time change from day 1. Bodies and brains are ready to go, move, learn!
2.) DON'T Get Trapped In The Paper Chase
Don't sit on those must complete school and medical forms. Save yourself the 11th hour scramble…If your kids require ongoing medical monitoring (think daily meds or allergy related epi-pens), contact your school nurse at least 3-4 weeks prior to the start of school. There will be forms that need to be filled out by your physician before the start of school.
3.) DON'T Over-Do The Back To School Clothes Shopping
Summer clothes rule on the first day of school.  Look back through your FDOS pics…most likely shorts, skirts, dresses, tanks and tees… If necessary, I only buy a few things for them and then buy clothes when they do need them, closer to October.  Give yourself a break and put Fall shopping on the back burner for now.
4.) DO Set Your Kids Up For Success – The Homework Station
Create a homework station.  This is where all homework will be done.  Quiet, calm, comfortable and consistent is what you want.  Next…the school supplies list. Pick up some extra supplies for your kids' homework station…items you might not have around the house.  For my twins, I purchased extra protractors, rulers and a dictionary.  I knew that they would need them at home as well as school.  Bonus: it eliminates the, "I left my protractor at school" excuse. Set them up for homework success with a "homework caddy." Stock it with pencils, glue sticks, crayons, rulers and anything else they may need to get their homework done.  I also make color coded file for each of them that stays at the homework station. When they come home, they put any important papers, that need to be reviewed, in their folder. Everything they need….is within reach.
5.) DO Prep Your Pantry
School makes kids hungry!  And they need good fuel to keep their bodies and minds moving.  Give them easy access to healthy snacks (for lunches and after school) by prepping your pantry. I prefer using clear bins so they can see what's inside and they can grab & go. The clear bins make it easy to see what's inside so I know when to restock. I can also see what they are eating and what they aren't.
Now, while there are probably 500 more tips I could offer for BTS, these are my absolute musts to keep things running smoothly, minimize potential conflicts and get them to school on time!  Hope they help you, too!
6.) DON'T Get Caught Up In The Tasks
Take some time to enjoy the last days of summer leading into the first day of school.  Plan ahead and save time, everyday for good quality family time.  Remember that all of the emotions that you are feeling….the stress, excitement, anxiety, fear….well, your kids are feeling that too!  Make your home and the days leading up to school a safe, calm, comfortable space to quell the Back To School nerves.  Talk to your kids about how they're feeling, spend quality time and enjoy each others company before the craziness begins!
For organizing tips for Back to School and beyond (and to share your own), LIKE Carrie's Essential Services on Facebook and FOLLOW us on Instagram and Twitter AND join our Facebook Group, Getting Organized On The Main Line!
Check out my appearance on Good Day Philadelphia as I share these tips & more with Jennaphr Frederick:
How To Set Up Your Home For School Year Success
How To Transform Your Kitchen Into A Productive Homework Space
About Carrie Kauffman
Carrie Kauffman is an award winning professional organizer, member of the National Association of Productivity and Organizing Professionals, Greater Philadelphia Chapter (NAPO-GPC) and owner of Carrie's Essential Services, LLC. Carrie Kauffman provides organizing services, in homes & offices, on the Main Line and surrounding communities. Carrie's Essential Services specializes in moving & packing, preparing homes for sale, office setup including filing systems as well as general organizing & de-cluttering.