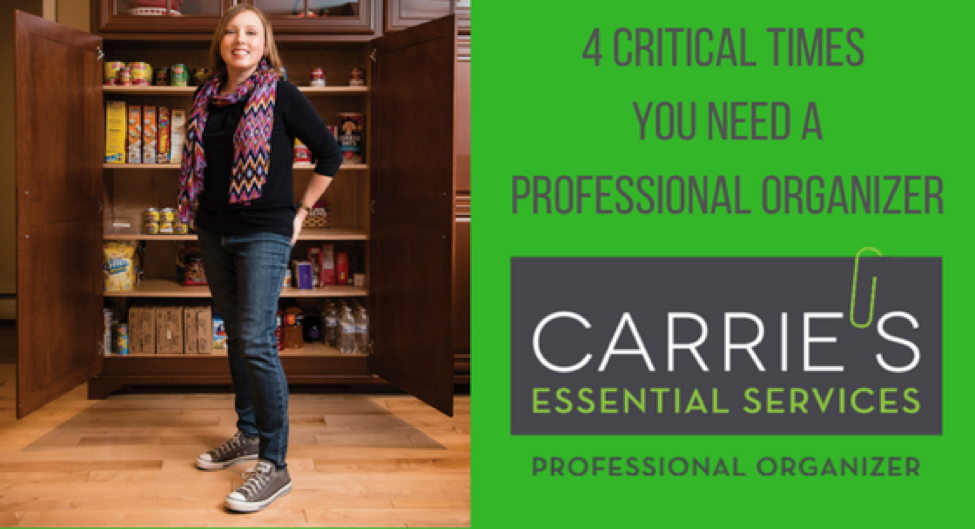 It's the third week of January and you've fallen back into your old habits. Kitchen's still cluttered, drawers still junky and the spare bedroom is littered with all the donation, consignment and online yard sale clothing piles.
The big plans, the motivation and the resolutions that come with the start of a new year have waned.  You're feeling deflated.  You look around your home and the stress and anxiety start to bubble up.  Life is happening and the hours, days, weeks just keep passing.  What do you do now?
You ask for help.  Time to hire a professional organizer.
Maybe you think…
"I don't need a professional…I can do this myself."
Or
"That's too expensive."
Or
"I don't want a stranger going through my things."
Or
"I'm embarrassed I let my home get this bad."
It's time to stop making excuses because the reality is…
You know you WON'T do it.
You know you don't WANT to do it.
But, you know it MUST get done.
Asking for help is not an admission of failure.  It's an alternate solution.  It's a proactive approach.  It's making it happen…with a second set of hands.  And with those hours…the ones you didn't spend alone in a dark, dank basement…you can spend living your life.
If these 4 scenarios describe you or your current situation, don't go it alone. Hire a professional to get it done quick!
1.) YOU'VE MOVED BUT HAVEN'T SET UP YOUR NEW SPACE
 Movers aren't mind readers.  They will move our things from one place to another.  They're following your explicit directions.  But they don't know you or your preferences or lifestyle.  So they've unpacked your boxes and delivered them to the proper room but after that…it's on you!  And now it's 3 years, 5 years, 10 years later…and the boxes are still exactly where the movers placed them.
You have a new home, a blank slate, the opportunity to create the flow & functionality you've always wished for!
When I unpack clients, I ask all of the important questions (even though you might not know they are important)! For example, let's talk kitchen setup.  Are right handed or left handed? This will impact which drawer or which side of the cooktop I choose for your cooking utensils. How tall are you?  This will help me determine which cabinet shelf to situate your spices so you can reach them. Kitchen setup that makes sense, based on your preferences and habits, not only saves you time but it also makes you more efficient day in and day out.
2.) YOU'RE ORGANIZED BUT YOUR SPOUSE IS NOT.
I see this happen everyday. And it can create a lot of stress between spouses.  My #1 piece of advice is lead by example. Make organizing easy for those who are less organized. As a professional organizer, I help put systems in place. Labeled shelves, baskets, boxes.  This goes here.  That goes there.  The goal is to make it mindless so that it becomes a habit and not necessarily one more thing to do. Your spouse will appreciate the gentle reminders as opposed to the hostile environment that stress and frustration can create.
3.) YOU'RE NOT ORGANIZED AND NOW YOUR KIDS AREN'T EITHER
Kids are great models of the behavior they see everyday.  It all starts with you.  Get yourself organized to set a good example for your children. As a professional organizer, I will help you declutter your life, your space.  Through that experience, you can teach your children what you've learned.
Kids will pick up your habits. Teach them how to let go of items they no longer need.  The great feeling they'll get when they donate items or pass them along to a younger family member.
Clutter causes stress for kids too! They experience that same overwhelming feeling when they have too much stuff.  It can be paralyzing for both kids & adults.  Teaching them good organizing habits needs to be a shared experienced.
4.) YOUR ORGANIZING PROJECTS HAVE STALLED & YOU'RE PARALYZED.
You've started an organizing project and you're feeling great and motivated but then…as these things progress, the situation can get worse before it gets better.  And the piles and the mess. And the uncertainty and the stress bubble up.  It becomes hard to see the vision through the clutter.  Then life happens.  Your child is sick.  Your job responsibilities are pulling you in 6 different directions. Days go by and then weeks and you just can't get back to it. Eventually that space with such promise is now a room filled with stuff and you just can't even bear to open the door. It's paralyzing.
It's time to jump start this project. Time to call in help. As a professional organizer, I want to help. I want to solve the problem. I want you to feel empowered. I want to get you back on track. I can see through the clutter to give you back your space, your time and bring order back to your life.
About Carrie Kauffman
Carrie Kauffman is an award winning professional organizer, member of the National Association of Professional Organizers (NAPO) and owner of Carrie's Essential Services, LLC. Carrie Kauffman provides organizing services, in homes & offices, on the Main Line and surrounding communities. Carrie's Essential Services specializes in moving & packing, preparing homes for sale, office setup including filing systems as well as general organizing & de-cluttering.