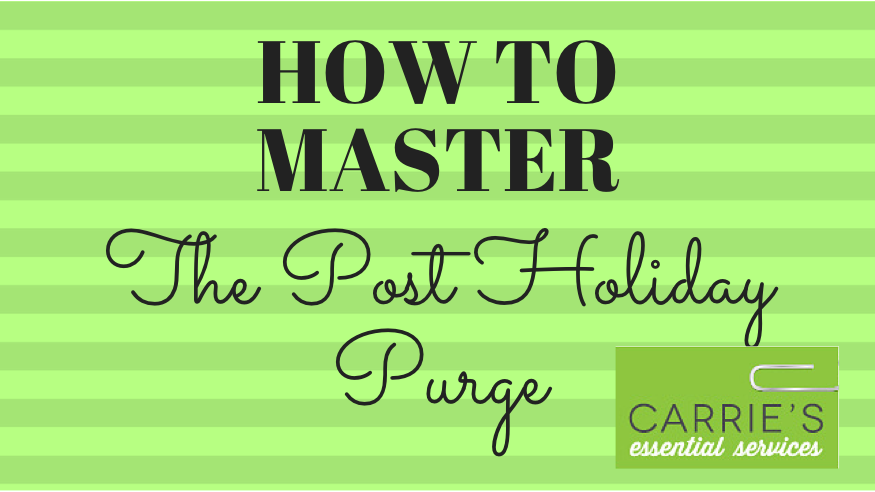 Start the New Year with a Clean Slate
It's official. It's 2017. The ball has been dropped…it's time. Time to get back to real life. Holidays are over and it's time. Time to get everything back in order.
Something about the start of a new year that is so very motivating…packing away the decorations leads to organizing the junk drawers leads to cleaning out closets and so on & so on…the key is to sustain this motivation…for the long haul!
The end of any season is the perfect time to take a good look at what you have, what you need to replace, what you need to toss or donate…evaluate everything from seasonal outdoor supplies and accessories to clothing…
Remember this good rule of thumb…
For each new item, toss or donate one old item. In with the new, out with the old!
Ask Yourself:
Is this in good working order?
Does this fit now and will it fit a year from now?
Will this make it another season?
Right Now – Top items to evaluate:
Heirlooms, Nostalgic Family Pieces, Keepsakes
Toys
Clothing-Accessories
Decorations
Magazines
Family Heirlooms, Nostalgic Pieces, Keepsakes
I see it every day, in nearly all of the homes I work in…what to do with cherished family heirlooms, nostalgic items, keepsakes?  
How could I possibly part with this after a loved one entrusted it to me? These items hold a lot of sentimental value and I understand that it's hard to let go. Ask yourself these questions to come to a decision you can live with.
Are these pieces out of sight, tucked away in storage?
Did you display/use it over the holidays or throughout the year?
Does it serve a purpose or is it just taking up space?
Who are you holding it for?  You, your children, another family member?
Would the person who owned it before you be happy?
Depending on the answers, it's time to take action…
• Bring It Back to Life – Use It!  Display It!
• Keep It Moving – Pass along to another family member 
• Repurpose It – Make the piece your own!
Have your grandmother's favorite chair but it's not your style? Doesn't fit with your decor? Paint or refinish it!  
You'll still have a piece of your grandmother in your home but in a way that suits your family, your future & how you choose to cherish the memory of her.
Great local business – Lisa Monaco of Refinished Furniture by Lisa can help achieve your vision while honoring your loved one's memory.  
Have clothing or linens, children's baby clothing, etc.…Jen O'Brien Anderson of Once Upon A Time Creation can turn them into amazing keepsakes (think blankets, bags, pillows) that are beautiful & functional to fit your lifestyle while honoring your loved one.
• Donate It – It's Ok!
If you decide to donate, consider making a memory book before you do.  Here, you have a chance to tell the story of each cherished piece.  
Take pictures, and tell its story, who it belonged to, how you received it and the history of that item.
Shutterfly or other online photo sites have great options. A book is far easier to manage than a large piece of furniture or a 50-piece china set.
Decorations
Are your holiday decoration bins bursting at the seams?  
Time to find out why & organize. 
If you're buying new holiday items each year then it's time to either recycle or donate those decorations you're not using anymore.
This may be a great opportunity to pass older decorations on to a younger family member that may be in need of some festive holiday décor
Toys
This is a great time to donate toys.
Kids get a ton of new toys over the holidays from parents, grandparents, aunts and uncles etc. When they are busy playing with these new toys, take a look at what they haven't been playing with…toss or donate them.
Clutter can be just as overwhelming for kids as it is for adults. Keep the toys they use. Get rid of the ones they don't. Consider if you need a new storage piece for the playroom. Donate the toys that are still in good shape and toss the rest. 
Clothing & Accessories
Did you buy or gift yourself a new handbag? What did you do with your old one?
Let the old one go. No need to keep something in your closet that is going to clutter it up.
Let that new one shine. Say goodbye and thank you to the old one.
Look at your clothing, belts, earrings, shoes etc. If you haven't worn something in years or recently replaced it over the holidays, let the rest go. "Just in case" is not a reason to hang on to things…It just adds to clutter.
Magazines
You've saved them for the year…if you haven't read them yet, you never will! Drop them off at your doctor's office, nursing home, coffee shop or recycle them.
If you find you're not reading your regular magazine subscriptions, then cancel them. 
Hostess Gifts
If you have hosted parties throughout the year, it's more than likely you've received a hostess gift or two. Not all of them are keepers. Take inventory and donate anything you will not use.
Where To Donate?
Carrie's Go-To Local Donation Centers
Junior League of Philadelphia Ardmore Location 
Cradles to Crayons in Conshohocken 
Green Drop Locations, Narberth, Broomall, Frazer
Delaware County SPCA
Impact Thrift Stores