It's the thing you keep putting off.
It's the thing that's uncomfortable to think about, let alone talk about.
It's the thing that can protect your family and your assets.
It's the thing that can provide peace of mind when faced with crisis.
It's your Will.  Your estate plan.  This is the year you'll finally cross it off your to-do list.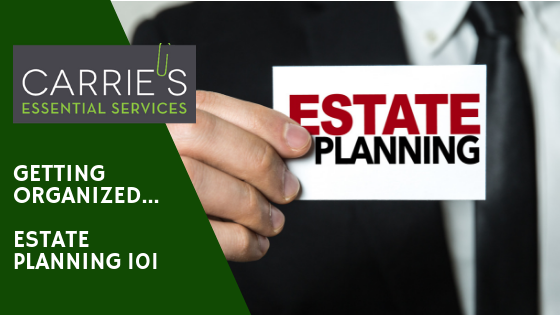 When we think about getting organized, our minds likely go right to visions of messy closets, mountains of paperwork, mail, photos or our cluttered food pantries…
But we often forget (or more commonly put off or refuse to think about) getting organized when it comes to our assets and making accommodations for our loved ones, in the event of our passing.  We forget about drafting a Will.
"But it's too early for me to think about that."
"I'm only 40."
"I can't think about it."
These are not acceptable excuses.  Estate planning must be done and it must be done well in advance…before you think you could possibly need it.
Sure it's natural to feel that this process as a little morbid.  To think about what your spouse, kids are going to do when you pass away.  But, this must be done.  And it must be done BEFORE you are in a life or death situation.
When my husband was hospitalized last September, it was terrifying. Our whole world was turned upside down. But I was so thankful that we already had our wills drafted and an estate plan in place.
But had we covered everything?  As prepared as I thought we were, I was still second guessing…At 42 years old, I never thought I would have to really think about the "what-ifs". And in his condition, I wanted no parts of asking my 45 year old husband of his wishes…but it became our reality and we had to be prepared, even for the worst case scenario.
So I wanted to make sure that I share my experience with others and give them a gentle nudge to get it done.  I called Heather Turner, Narberth estate attorney at Heather Turner Law, for her professional advice on how to prepare a proper estate plan and how to make sure it covers absolutely everything.
WHY should you have an estate plan?
That last thing you want is your loved ones guessing about your wishes and who's going to take care of things if your spouse or loved one passes suddenly.
Without a complete estate plan, your money and possessions will be distributed according to a formula fixed by law and could lead to your minor children being placed in the care of a guardian appointed by the court, not necessarily the person you would have chosen.
YES.  You read that right.  The court could decide for you, if you don't.
It's important to make your wishes known so that there is no confusion.
WHEN should you start estate planning?
There are many reasons to start thinking about creating your will.
Generally, you should begin the process as soon as you:
Open a bank account or investment account
Purchase a home
Have minor children
You now have assets, something of value to pass down and/or dependent children. Time to draft a will to designate what happens in the event of your passing.
WHO should prepare your estate plan?
A Will should be written by an attorney who practices law in the area of estate planning. Standardized kits or computer software programs, that claim to draft your Will, often leave out important requirements specific to your state.  These omissions could leave your Will invalid.Also, they do not address your personal circumstances and wishes. Writing a will involves judgment and skills acquired only through professional training and experience. Developing a Will requires knowledge of federal and state tax laws. A Will that is not skillfully drafted could result in your estate being distributed in a manner contrary to your wishes, and lead to unnecessary legal and probate costs and higher taxes.  You do not want to put your surviving family members in this situation.
Bottomline.  Take the time to get it done professionally. This way you can be certain that you've taken steps to protect your family down the road.
WHAT should your estate plan include?
Everyone should have an estate plan, including the following documents and directives:
Will
Health Care Power of Attorney
Financial Power of Attorney
Living Will
A Will, allows you to choose how you wish your property, including, homes, money, cars, financial investments account and other valuable property to be distributed. A Will, allows you to choose the person you want to serve as guardian and trustee for your children. A Will, allows you to make special gifts, minimize tax expenses and make special provisions for family members or friends.
Health Care and Financial Powers of Attorney protect you and your family while you are alive. If you are ever unable to conduct your own health care and/or financial affairs, through these documents, you can elect someone to step into your shoes. No one can predict when a medical emergency will occur, or when you will need someone to step in, to pay your bills, pay your taxes, take over your business and investments.  Choose someone who will represent your best interests and be willing and able to make medical decisions on your behalf.
Do I need to make changes to my estate plan?
You should update your Will in the following cases:
An increase in the value of your assets
The birth or death of a beneficiary
A marriage or divorce
A change in estate or tax laws
A change in your wishes for distribution of property, executor, trustee or guardian.
Being organized is not just about organizing your home, office, closets, and photos, it is about protecting yourself and your loved ones.  Planning ahead and taking action when it comes to proper estate planning will provide you & your family with tremendous peace of mind.
Make this the year that you cross this off your to do list!
About Carrie Kauffman
Carrie Kauffman is an award winning professional organizer, member of the National Association of Productivity and Organizing Professionals, Greater Philadelphia Chapter (NAPO-GPC) and owner of Carrie's Essential Services, LLC. Carrie Kauffman provides organizing services, in homes & offices, on the Main Line and surrounding communities. Carrie's Essential Services specializes in moving & packing, preparing homes for sale, office setup including filing systems as well as general organizing & de-cluttering.
About Heather Turner
Attorney Heather L. Turner brings experience, passion, and a community focus to her work at the Law Office of Heather L. Turner, LLC. Heather founded her firm to serve the needs of families looking for peace of mind with estate planning.Heather received her law degree from Widener University School of Law and also earned a master's in education from Drexel University. Heather has a deep knowledge of estate planning, administration, and probate and has worked alongside a seasoned and well-respected estates attorney for several years. Heather is licensed to practice law in Pennsylvania and handle cases in Montgomery, Delaware, Chester, and Philadelphia counties.  For any questions about estate planning please contact Heather L. Turner, Esq., at 610-761-6363 or email hturner@heatherturnerlaw.comor visit her website at www.heatherturnerlaw.com