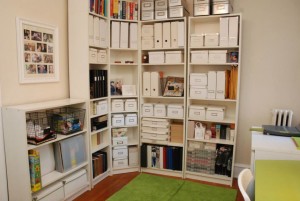 Carrie Kauffman is an award winning Delaware County Professional Organizer who works to organize and de-clutter homes in the Philadelphia area. She offers assistance with all areas of the home including kitchen, living room, playroom, bedrooms, office, basement and garage. Carrie also works with local businesses to develop and implement documentation, billing and file management. Her innovative approach introduces functional systems that work for your specific lifestyle. She is resourceful, honest and transparent in her communication and believes people enjoy their space when they let go of things that no longer serve them.
In addition to being a Delaware County Professional Organizer, Carrie offers relocation services. She'll prepare your home for the market and will pack and unpack your residence. Carrie welcomes any level of organizational difficulty and looks forward to creating living spaces that minimize obstacles and generate possibilities.
As a Delaware County Professional Organizer, Carrie generate functional spaces that best fit your specific needs and interests. In doing so, she is able to create opportunities for increased productivity and performance are created for all of those involved.
"For every minute spent organizing, an hour is earned." – Benjamin Franklin
What an amazing concept and concrete truth this quote holds. You may not realize it, but being well-organized and de-cluttered saves you time throughout your entire day in almost everything you do. Being organized isn't about being flawless or having an immaculate home; it's about reducing your stress and anxiety, saving money, saving time and being more efficient so you can live/work in a space you enjoy.
Immediate benefits of organization include reduced stress, reduced financial loss, peace of mind, more time in your day, increased energy and enhanced performance in your personal and professional life. If you feel like this is a something you are interested in achieving, contact Carrie, a Delaware County Professional Organizer to see how she can help you meet your organization goals.