Have I told you how much I appreciate my kids' teachers?  Well after this first week of remote learning….I do, I really do!
I'm going through all the emotions on becoming an accidental teacher to my kids…fear, anger, frustration, acceptance, now motivation.  I'm guessing maybe you can relate?
Surviving Homeschool
Tales of an Accidental Teacher
As a Professional Organizer, some consider me a teacher, of sorts.
I teach people how to declutter and organize their homes. I work with them, in their homes and virtually, share my expertise, my process and best practices that I've learned throughout my life and career.
I do my very best to pass along my knowledge to my "students" so that they can organize their own homes.  Occasionally, they will come back with a problem they can't solve on their own.  And so, I'll come back, assess the situation, offer my recommendation and remind them of all the organizing tips we learned in our last session…
Sounds a lot like a teacher, right?
Ok, maybe I'm over-simplifying.  If I've learned one thing during our time, social distancing, it's that our kids' teachers are amazing. They work tirelessly to teach our kids for 180 days out of every year, day in & day out and maybe, just maybe, we take that for granted a smidge?
Lord knows, I appreciate them more every day that I have to homeschool my kids!I know many parents are in the same boat…thinking…
How the hell am I supposed to do this?
I didn't sign up for this.  I am not a teacher!
They have the passion and drive for teaching kids.
They have studied how best to teach kids, including those who learn differently.
They have had years of experience.
They have mastered what not to do.
They have this down to a science!
How the hell am I supposed to do what they do?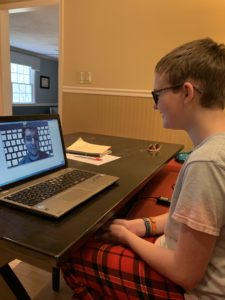 I have boy-girl twins, 13 years old, 7th graders. My son requires special education and adaptive learning courses. Part of this curriculum includes working with his specialists including OT, PT and speech therapists.
But now, with schools out at least through early April, I'm supposed to take it from here…problem is I'm not quite sure where here is?
But if you know anything about me…I'll learn by doing!
We, the accidental teachers, therapists must remember…
WE were our children's first teachers.
We taught them how to roll over, walk, feed themselves, use the potty,  color, count to 10, ride a bike. Every one of those milestones came with a lot of mistakes, tears, wins and losses but we did it and our children continued to meet those developmental milestones, because of us!
As they grew, we worried when we saw them struggle but realized it was critical for them to learn to do hard things on their own. We celebrated when they accomplished what we consider so basic but they persevered and they did it!
Now we are back teaching them again.
Here's the good news (for parents of middle schoolers, at least):
They know more now thanks to their teachers.
They listen and comprehend everything we are saying.
And here's the bad news:
They hear you complaining about helping them re-read a story over and over.
They hear you getting frustrated when you don't understand their math homework either.
I get it…because I'm right there with you!
These are uncertain times but it will get better.
Right now their only teacher is you.
Teach with your words and your compassion.
Embrace the wins and the losses!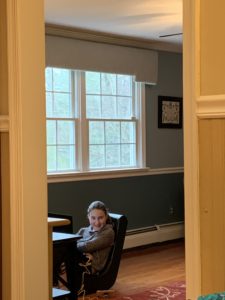 Sometimes, life throws up curveballs. And this time it's one that no one saw coming. But it's here and we have to do our best for our children. There will be days where we're all struggling and mistakes will happen. And there will be days where everything runs like clockwork!
The ball's back in our court.
Remember what we tell our kids….the same goes for us right now!
If  you don't understand something…ask for help!
If you need to have two conference calls with the teacher…do it.
If you want to crowdsource, post something on FB; maybe another parent is having the same problem!
All my best to all the parent-teachers out there.
Take the good with the bad and roll with it!
We are all in this together!
And don't forget to celebrate the wins with your children. I helped my son with a test and when he scored 100%, he smiled ear to ear. I feel lucky that I get to see that pride, as his traditional teachers do in their classrooms. My daughter tackled a math problem she'd been struggling with. Her "principal" aka Dad was able to break it down "old school," something clicked and she got it! She was also able to teach dad a short cut with math even he didn't know of.
As parents, we are always teaching our kids something.  We don't stop being their teachers when they are out of the classroom.  Hang in there, everyone!
Signing off,
Woman, Wife, Parent, Teacher, Business Owner
Carrie
For organizing tips for Parents, Accidental Homeschool Teachers and beyond (and to share your own), LIKE Carrie's Essential Services on Facebook and FOLLOW us on Instagram and Twitter AND join our Facebook Group, Getting Organized On The Main Line!
About Carrie Kauffman
Carrie Kauffman is an award winning professional organizer, member of the National Association of Productivity and Organizing Professionals, Greater Philadelphia Chapter (NAPO-GPC) and owner of Carrie's Essential Services, LLC. Carrie Kauffman provides organizing services, in homes & offices, on the Main Line and surrounding communities. Carrie's Essential Services specializes in moving & packing, preparing homes for sale, office setup including filing systems as well as general organizing & de-cluttering.