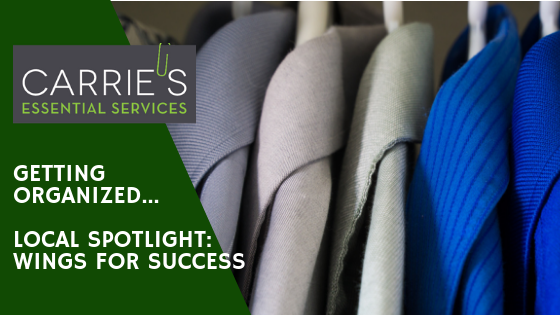 "Life's most persistent and urgent question is:  what are you doing for others?" – Martin Luther King Jr.
MLK Day is an opportunity to turn a day of service into a life of service.
There are so many worthy causes and organizations that need volunteers to operate every day and work towards achieving their mission.  Wondering how to choose among them?
Think about your skills, interests and causes that impact your life or the lives of those around you.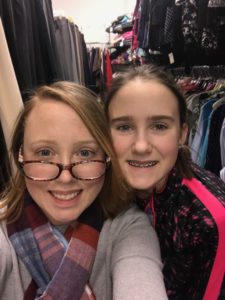 What can you offer?  Time? Expertise?  Resources?  And then do it.  Volunteer.  Do everything that you can to help.
As a professional organizer, my favorite & most frequent project for clients is closet organization.  Also, evaluating a space and organizing it for function is my specialty.
My 11-year old daughter, Shelby, loves clothes and has a passion for sewing & fashion.
Women's issues is certainly something that means a lot to me…especially women in business and creating every opportunity for women in the workplace.  It's also something that I want Shelby to understand and support as she gets older.  Both the importance of being an independent woman as well as the importance of giving back to your community.
I recently had the opportunity to volunteer, with Shelby, at Wings for Success, a Chester County based non-profit, dedicated to helping women achieve autonomy, success, and confidence.  Since its founding, Wings has helped more than 11,000 women obtain the clothing, advice, and employment preparation needed to become self-sufficient. Thanks to their dedicated volunteers, a supportive community, and a solid vision for the future, they've been able to achieve this mission for more than 20 years.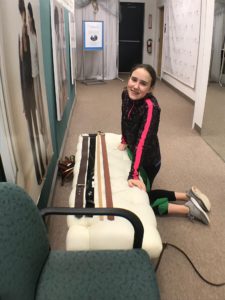 Wings for Success works with women in need. They may be veterans getting back into the civilian workforce or homeless women getting back on track, going on job interviews or even women escaping domestic violence and trying to start a new life.
The volunteer stylists give their time to help women feel their very best when they are job hunting or starting a new job. They help clients look their best when interviewing for a new job.  Feeling and looking good gives clients an immediate sense of confidence that employers will see from the moment they walk in the door.
Upon arriving at Wings for Success' location in Frazer, I knew this would be a transformative experience.
Displayed on the wall as I entered, their mission was clear:
A small piece of art of the wall that read:
"Just when the caterpillar thought the world was over.  She became a butterfly."
A spacious and inviting dressing room wall emblazoned with words of encouragement…
"You are enough"
"Believe in yourself"
"Decide.  Commit.  Succeed."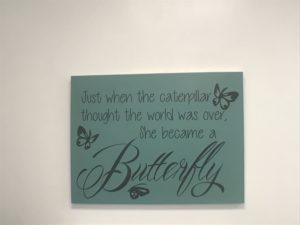 Shelby and I spent the day helping to organize the racks of clothing and accessories so that stylists and clients can find items easily to create outfits for job interviews, employment opportunities and needs, for a variety of industries, at no cost.  We organized the accessories by color, style, and size. Shelby worked with the stylists, putting clothes on hangers, shining up shoes and seeing all of the beautiful items coming in.
Shelby enjoyed the day so much that she wants to bring her best friend along next time.
As a professional organizer, getting to know our area's non-profits helps me to educate my clients on where they can donate their household items, clothing, etc. but I also love every opportunity that I get to volunteer my time to help these local organizations and learn more about their mission.
Interested in helping Wings for Success?  They can always use more volunteer stylists but they are in need of a variety of items including:
New items: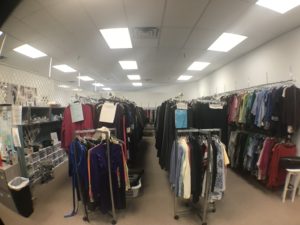 Toiletries
Pantyhose
Trouser socks (new or like new)
Bras
Shapewear
Undergarments
Makeup
Nail polish
Gently used:
Coats, gloves, knit hats, scarves
Winter boots
Scrubs – for those clients entering positions in the healthcare field
Shoes – basic black, any heel, flats
Black leggings
Black tights
Large size belts
Maternity clothing
Other:
Reusable shopping bags – for clients to take home their outfits
Handheld steamers
Jewelry cardboard boxes
Lint brushes