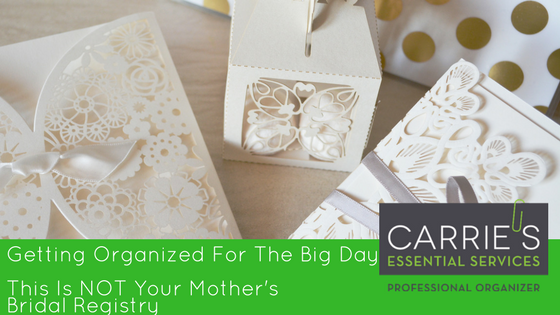 Getting Organized…
NOT Your Mother's Wedding Registry
By Carrie Kauffman, Professional Organizer & Stephanie Seal, Event Coordinator
As a professional organizer, I have seen more than my fair share of wedding gifts…
But not exactly as you'd expect…
I see them years after the big day…
…in their original boxes,
…collecting dust,
…tucked away in a closet or in storage.
Think ice cream maker (sure, sounds super fun but…), bread maker, fine china, crystal…
Stephanie Seal is the owner of Seal Events, a Philadelphia-based event planning service.  Stephanie works with many local couples prepping for their big day.  She has seen a real shift in registry selections, a move from traditional household items towards experiences, accessories to fuel their hobbies, lifestyle subscriptions while still embracing good old gift cards, but to new locales, services.
"Luggage, camping gear, power tools, speaker systems and subscriptions to services like Blue Apron have been popping up on registries. Couples are registering for things that are unique to them and not with Aunt Florence in mind."
Further, registries are getting smaller, according to Seal.
"Couples are registering for fewer items in an effort to upgrade their current inventory to a few spectacular items. They'll choose an espresso machine over a bread maker to fit their lifestyle."
As a professional organizer, I LOVE that modern, engaged couple are choosing to pack their registries with low clutter or clutter-free options!
So how can you, as a newlywed, plan a better registry with functional (and fun) items you'll use and love vs those that you won't? Check out our practical tips to your best wedding registry.
3 Practical Questions To Ask When Planning Your Registry
Does This Make Sense With Our Lifestyle?
Think about your lifestyle right now, as a couple. Do you love to make elaborate meals together, entertain family & friends? Or are you a couple who orders Hello Fresh or prefers to eat out due to busy schedules?  How necessary is an 8-piece professional knife set or a Cuisinart Dual Blade 8qt Mixer or the 10-piece mixing bowl set if you have a compact kitchen?  Are you planning to start a family right away or is travel and entertainment on your immediate agenda?
Think about what fits your lifestyle as a couple.  For example, my husband was a chef, in a previous life, so the kitchen tools we received as wedding gifts have been well-loved & well-used over the years!  So DO register for what you love…whether it's cooking or entertaining, camping or traveling!
If you're already keeping your life simple, don't clutter up your kitchen or other spaces with big bulky items you'll use once or never at all.
Or save the clutter all together…Stephanie sees more of her engaged clients opting for registries focused on experiences vs household items.
"Newly engaged persons may not have the immediate dreams of having several children, hosting large dinner parties or holiday events and filling a home with material things. Instead there's a big shift towards travel, activities and adventures. Weddings are now about customization to reflect the couple, not traditional standards. And registries have followed suit.
What Do We Already Have?
If you and your soon-to-be spouse lived in separate homes before getting married, now is the perfect time to see what you already have for your new space. Put everything where you want it.  You may find that your future bride already has a brand new Kitchen Aid Mixer and a set of glass mixing bowls, so no need to register for them. Have extra towels? Set some aside for guests.
Now you'll have a great idea of…
…what you're missing or might need,
…what is on its last legs and needs to be replaced,
…what items are duplicates and can be donated or passed along to a friend.
Repeat this process in every room in your home – declutter, evaluate, and adjust your registry accordingly.
More often these days, offers Stephanie, "couples are sharing a home before their wedding day so they have basic registry items such as spatulas and a toaster. Couples are also marrying at a more mature age and may have their own homes before tying the knot."
But make no mistake…merging households could require quite a bit of decluttering…definitely more so than starting from scratch.
What Would Our Future Selves Do?
Your wedding registry is all about your future, so fast forward…5, 10, 15 years…
Do you see yourself using that must have juicer?
Are those higher thread count sheets really a priority?
Do you really need a 6-slice toaster or should you opt for nicer everyday towels?
The bread maker. Will being married motivate you to make your own bread?
Will you ever really host formal dinners that require fine china & crystal?
As someone who has been married for 15 years, I can tell you that, over the years, we've donated at least half of our wedding gifts…for one reason or another.  Remember less is more so don't overdo it…but get what you love to make your house a home!  Good luck!
About Carrie Kauffman
Carrie Kauffman is an award winning professional organizer, member of the National Association of Productivity and Organizing Professionals, Greater Philadelphia Chapter (NAPO-GPC) and owner of Carrie's Essential Services, LLC. Carrie Kauffman provides organizing services, in homes & offices, on the Main Line and surrounding communities. Carrie's Essential Services specializes in moving & packing, preparing homes for sale, office setup including filing systems as well as general organizing & de-cluttering.
About Stephanie Seal
Stephanie Gambescia Seal is a Philadelphia based event coordinator providing planning and event staffing services for occasions of all sizes. Her company, Seal Events, helps clients truly be a guest at their own event and have a stress free run up to the big day.